Tuesday, October 27, 2020 -
Location:
Current students will receive Zoom details via Canvas
Speaker: Diana Marculescu Department Chair, Texas ECE
Join us as we kickstart our faculty talk series with the inaugural talk from our very own, Prof. Diana Marculescu, as she shares her exciting journey – From Romania to California, from Pittsburgh to Austin. She will also share her recent research interests, her dreams and vision as the chair, and provide rich personal insights on how she transitioned and succeeded across various stages of academia. 
Open to all ECE students!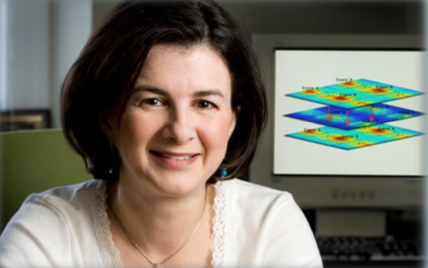 Prof. Diana Marculescu is the Department Chair and Motorola Regents Chair in Electrical and Computer Engineering #2 at the University of Texas at Austin. She was formerly the David Edward Schramm Professor of Electrical and Computer Engineering at Carnegie Mellon University. She is the first female chair in the department's history. Prof. Marculescu received a degree in computer science from Politehnica University of Bucharest, Romania, in 1991, and a Ph.D. in computer engineering from the University of Southern California in 1998. From 2014 to 2018, she served as Associate Department Head for Academic Affairs in Electrical and Computer Engineering, and, from 2015 to 2019, was the founding director of the College of Engineering Center for Faculty Success. Marculescu was named a Distinguished Scientist, for her significant impact on the computing field by the Association for Computing Machinery (ACM) in 2011. She was named Fellow of the Institute of Electrical and Electronics Engineers (IEEE) in 2015 for contributions to design and optimization of energy-aware computing systems. She was elected as an ACM Fellow in 2019 "for contributions to the design and optimization of energy-aware computing systems". She was an IEEE-Circuits and Systems Society Distinguished Lecturer (2004-2005), the Chair of the ACM Special Interest Group on Design Automation (2005-2009) and is an ACM Distinguished Scientist and a Senior Member of IEEE.
Student Organizations: IEEE Graduate Student Chapter (IEEE-TEMS)