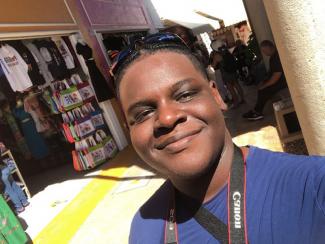 Christopher Rodolph is a third-year student from Atlanta by way of Dallas focusing on Integrated Circuits and Electronics. He started at UT in the midst of the COVID pandemic and had to adjust to a virtual start to his college experience. Once he was able to attend in person, he became very active in student organizations. He is a cooperative education (CO-OP) student with the Department of Defense as well as the former avionics hardware lead at Texas Rocket Engineering Lab (TREL). During his first two years, he was active in Longhorn Gaming and Longhorn Racing. This year, he became a peer mentor for the Texas ECE TALENT success program which helps students to acquire the necessary tools needed to foster academic growth that lead to success as a UT Austin scholar. We spoke with Christopher about his time in Texas ECE as well as his future goals.
How did you end up at UT? What path led you here?
A big part of what led me to UT was my family making the move to Texas. I knew pretty early on that it was engineering I wanted to do, and considering the fact that one of the best and most affordable universities for engineering was right down I-35, it just made the most sense. Culture also played a big part in what I was looking for, and UT kind of just checked both of those boxes in the best way for me.
What got you interested in electrical and computer engineering?
So I like to think that my story here is pretty unique, although I could very well be wrong. It primarily started back in 8th grade when I took a mechatronics class, although, looking back, it was actually just an intro to electrical engineering course. Nonetheless, it was here that I was introduced to a lot of basic electrical engineering concepts like programming, Ohm's law, reading resistors, and even circuit analysis using KVL, KCL, and node analysis. We worked on many different projects in Arduino designing fairly simple but fun circuits and then writing the corresponding code to accompany them and make everything work. This experience as a whole was essentially life-changing for me. I caught on to everything fairly quickly and, above all else, I genuinely enjoyed it. From there I knew that electrical engineering was what I saw in my future, and I tailored all my experiences toward that subject and learning all I can to succeed. For the most part, it seems to have paid off quite nicely so far.
Who has been a major influence on your life?
Without a doubt my parents. They have supported me unconditionally throughout all of this and have sacrificed so much to help get me to where I am today. I wouldn't be here if it weren't for them, I mean obviously, I wouldn't, but even just being here at UT and studying something that I love and am so passionate about. It is truly all thanks to them.
If you could provide one positive memory of your time at UT so far that stands out, what would that be?
I would definitely have to say that my most positive memory thus far has been having a movie night/sleepover with my friends. It took me a minute to find a group that fit me, especially after having spent my first 3 semesters online/away at work, but it was well worth the wait. I love my friends now and we've had some pretty awesome adventures together. That one, in particular, stands out the most because it was also the moment for me when I truly felt like I found someplace where I belong, and I can't thank them enough for that.
Why did you become a TALENT mentor, and why is it important to you?
I became a TALENT mentor because coming into UT there were quite a few expectations, questions, and even insecurities I had that took me a while to shake and get over. I knew that if there was a way for me to help others dealing with those same issues then why wouldn't I help? And the TALENT Success program just seemed like a way to do that. I wish that I could have done more in my semester as a mentor, and when I return to UT from my time away for work, that is something I am hoping to do for sure.
When will you graduate, and what are your plans/goals for after graduation?
As of now, my scheduled graduation date is the Spring of 2025. I am hoping that everything between my work with the government and school will allow me to do the Integrated Program at UT so I can earn my Master's in ECE with a focus on microelectronics by the Summer of 2026. From there I intend to go back to work full-time while I do research and pursue a Ph.D. at either Howard University or Johns Hopkins University depending on how everything plays out.
Why is it important for the university to have a diverse community?
Diversity is important because I feel it is what allows us to grow not only as a university but also as a community. Having educated individuals from all different backgrounds is what allows us to tackle problems effectively and efficiently while also viewing them from so many different angles. Additionally, we learn from each other. Education is the sole purpose any of us are at UT and that should extend beyond just the technical aspect. As much as I hate to say it, engineers have a rep for not being the most people-friendly bunch, but through diversity in our classroom and collaborative work, that's a skill that can grow and be extremely useful as we enter the workforce and continue our careers. There is also the aspect of garnering interest. By having more diversity in the classroom, it offers a greater opportunity to show young great minds that someone who looks like them, or someone who was dealing with the same struggles as them, made it, and so can they. It's a powerful message to send but also a necessary one as we continue to advance technology in society, and those engineers with varying perspectives are what we need to ensure that advancement continues to be positive and inclusive for everyone. Diversity is a very encouraging thing to show and one that will be increasingly beneficial for everyone down the line.
What does Black History Month mean to you?
To me, Black History Month is not only an opportunity to reflect and learn about my heritage but also to share and inform others about it too. Black history is a very troubling, but rich and inspirational subject and it is certainly not something that should ever be lost or forgotten. Additionally, it serves as a chance for us to have those heavy discussions of not only reminding outsiders of the troubles we went through in the past, but how we managed to get to the place in society we are at today, and the struggles we continue to face daily. It is important now more than ever that something like that is continuously reinforced throughout society so that we can all learn and improve as we move forward into the future. Black History Month is a celebration and a lesson of our past, present, and future and will always and forever be an important aspect of our society.