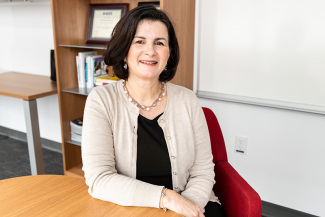 Diana Marculescu, professor and chair of the Chandra Family Department of Electrical and Computer Engineering, has been elected a Fellow of the American Association for the Advancement of Science (AAAS), the world's largest general scientific society.
The honor recognizes important contributions to the fields of science, technology, engineering and mathematics—including pioneering research, leadership within a given field, teaching and mentoring, fostering collaborations, and advancing public understanding of science.
"I am honored to join so many accomplished colleagues as an AAAS Fellow," Marculescu said. "AAAS Fellows have always represented tremendous contributors to every scientific discipline, and it is humbling to be included among them."
The 2022 Fellows class includes 506 scientists, engineers and innovators spanning 24 scientific disciplines who are being recognized for their scientifically and socially distinguished achievements. Six faculty from UT joined the 2022 class. Texas ECE professor Xiuling Li was elected in 2021.
"AAAS is proud to elevate these standout individuals and recognize the many ways in which they've advanced scientific excellence, tackled complex societal challenges and pushed boundaries that will reap benefits for years to come," said Sudip S. Parikh, Ph.D., AAAS chief executive officer and executive publisher of the Science family of journals.
Diana Marculescu is Department Chair, Cockrell Family Chair for Engineering Leadership #5, and Professor, Motorola Regents Chair in Electrical and Computer Engineering #2, at the University of Texas at Austin.
Prior to joining UT Austin in December 2019, she was the David Edward Schramm Professor of Electrical and Computer Engineering, the Founding Director of the College of Engineering Center for Faculty Success (2015-2019) and has served as Associate Department Head for Academic Affairs in Electrical and Computer Engineering (2014-2018), all at Carnegie Mellon University.
Diana was a recipient of the National Science Foundation Faculty Career Award (2000-2004), the ACM SIGDA Technical Leadership Award (2003), the Carnegie Institute of Technology George Tallman Ladd Research Award (2004), and several best paper awards. She was an IEEE Circuits and Systems Society Distinguished Lecturer (2004-2005) and the Chair of the Association for Computing Machinery (ACM) Special Interest Group on Design Automation (2005-2009). Diana chaired several conferences and symposia in her area and is currently an Associate Editor for IEEE Transactions on Computers. She was selected as an ELATE Fellow (2013-2014), and is the recipient of an Australian Research Council Future Fellowship (2013-2017), the Marie R. Pistilli Women in EDA Achievement Award (2014), and the Barbara Lazarus Award from Carnegie Mellon University (2018). Diana is a Fellow of ACM and IEEE.