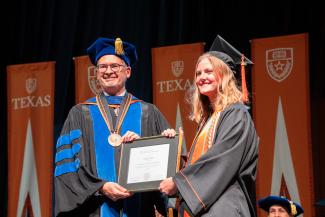 Photo: Dean Roger Bonnecaze presents Neeley Pate with the Outstanding Scholar-Leader Award at the Cockrell School Graduation Ceremony on Friday, May 5, 2023.
Neeley Pate, 2023 graduate of the Chandra Family Department of Electrical and Computer Engineering, has been awarded the Outstanding Scholar-Leader Award from the Cockrell School of Engineering. The outstanding scholar-leader from among the senior class recognizes a candidate whose hard work and dedication — both in and out of the classroom — exemplify leadership and inspire the Cockrell School community.
"Neeley epitomizes the finest qualities we hope for from our students," said department chair Diana Marculescu. "Her leadership, academic success, and dedication to the Texas ECE community were without peer. I have no doubt she will have tremendous success in her future endeavors."
"I felt extremely honored and grateful to be recognized with this award," said Pate. "I feel that earning this award is a positive reflection of my experience in the ECE program."
Neeley has held several leadership roles during her time in the Cockrell School including serving as a freshman mentor for three years and as a member of the Propaganda Lab at the Center for Media Engagement. Neeley said that the leadership role that was the most influential to her was being a teaching assistant for Software Design and Implementation where she was honored with the Texas ECE Department Top Teaching Award in Spring 2022.
"As a freshman mentor, I have enjoyed getting to know each of my students, guiding them through the transition to college life and offering a safe place to make lifelong friends and connections," said Pate. "It is extremely rewarding to help students understand hard concepts and to watch them grow, encouraging me to expand my knowledge with theirs."

"I chose to be a First-Year Interest Group (FIG) mentor because after going through my own FIG freshman year, I realized that there was a lot of information I would not have known on my own. Going through the FIG program can help students make friends, find resources they may not have known about, and adjust them to the college experience.
She also received the Texas ECE Undergraduate Achiever Award in recognition of outstanding academic achievement in 2023.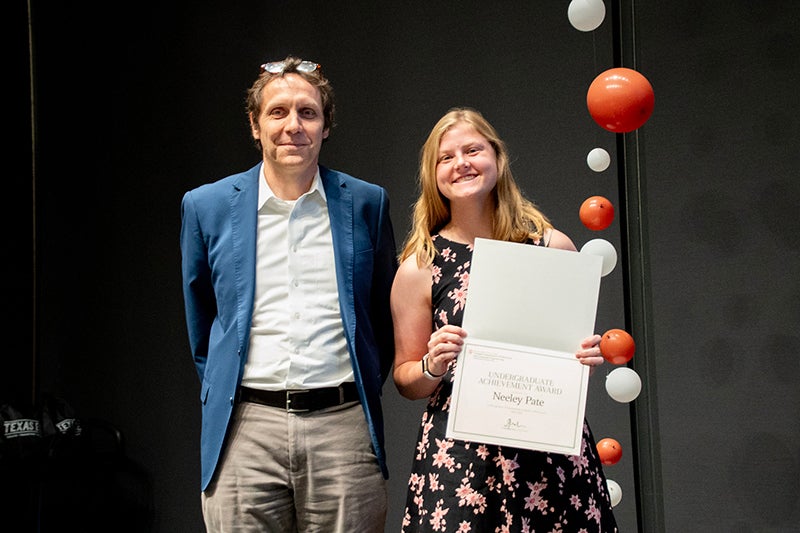 In Summer 2021, Neeley did a Maymester abroad in Copenhagen, Denmark where she studied EE 333T with Prof. Bill Fagelson. The class teaches students about the communication process and its relationship to professionalism, ethics, and the practice of engineering design by teaching writing and presenting as iterative processes that require planning, drafting, revising, and outside input.
"I think going abroad really encouraged me to come out of my shell, said Pate. "I was able to make new friends through the experience, have once in a lifetime experiences like climbing and standing atop a wind turbine, and deeply immerse myself in a different culture. Studying abroad was definitely one of the highlights of my ECE career."
In Fall 2022, Neeley was part of a Capstone Design team that created an Intelligent Emergency Microgrid System which aimed to distribute power equitably and prevent long-term power failure in microgrids reliant on renewable energy by using machine learning to predict the demand and supply for an entire microgrid system and using that information to implement rolling blackouts. The team won First Place in the Honors category.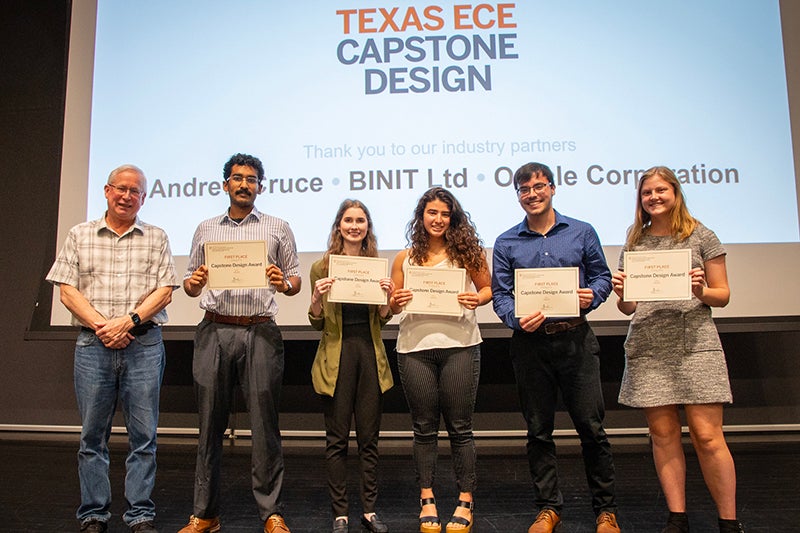 "My experiences in engineering have emphasized how important it is to participate in meaningful projects. The culmination of my undergraduate experiences have made it clear that a career in higher education is something I want to pursue, and that I want to leave a greater impact on the world," said Pate. "I want to become a professor and make STEM first and foremost a human enterprise by emphasizing the importance of ethics in engineering."

"The connections I made are the most rewarding part of the Texas ECE program. Not only are you getting a solid education, but you're able to meet professors who are the top of their field and so passionate about working with students, as well as lifelong friends. I feel it has been especially rewarding to make connections with other students through my leadership positions because of the positive impact we have on each other."
She will be continuing her education by pursuing a PhD in Computer Science at the University of Rochester on a Provost Fellowship.