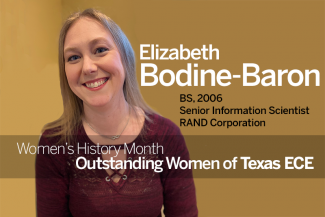 We sat down with alumna Dr. Elizabeth Bodine-Baron (BSEE, BA, 2006) to discuss her career in electrical and computer engineering.
---
Elizabeth Bodine-Baron is a senior information scientist specializing in complex networks and systems at the RAND Corporation; she also serves as the associate director of the Force Modernization and Employment Program in Project Air Force (PAF). Her research interests include network analysis and modeling for both domestic and national security issues. Her recent work includes analysis of cyber and information operations, intelligence and targeting tools and processes, and the cybersecurity of logistics and weapon systems. She has used network analysis of social media data to study Russian propaganda, violent extremist messaging, ISIS support and opposition networks, and information operations. Bodine-Baron received a B.S. in electrical engineering and a B.A. in liberal arts (Plan II Honors) from The University of Texas at Austin in 2006, and a Ph.D. in electrical engineering from California Institute of Technology in 2012.
Who has been a major influence on your life?
My mom has been a huge influence on my life. She has a master's degree in mathematics (she spent a semester at UT) and has worked for years as a software engineer at defense contractors – a male dominated field in a male dominated industry. Both of my parents prioritized academic achievement and pushed me to do my best, but my mom showed me *how* to do it – how to succeed despite others' criticisms and despite being one of the few women in the room. Throughout my childhood, she worked full time, and, while she shared family and home responsibilities with my father, she still did the bulk of the cooking and other home activities, providing a home-cooked family dinner almost every night, helping me with my homework, and supporting me in too many other ways to name. Now that I'm a mother as well, I have no idea how she balanced all of that - I can only hope to serve as a similar role model to my own daughter.
If you could provide one positive memory of your time at UT that stands out, what would that be?
I have too many to name! It was a hugely formative time in my life – I learned so much, all while having a great time. My most significant memory of UT is also one of my first – sitting in Prof. Archie Holmes' Introduction to EE freshman class. I enjoyed every aspect of that class, from Prof. Holmes' bad jokes to learning about circuits for the first time to playing with Lego robots (my team and I gave up on trying to win the robot soccer match and just created a robot that would sabotage all of the others!) I found my best friends in that class, forming a core study and social group that carried us through graduation and beyond (including a few married couples). I also have to mention working with Prof. Bill Bard on my first ever independent research project – building a software defined radio on my own in the back room of the old WNCG lab. When I finally got that to work and hooked up some speakers to listen to a local station – that was a high point for sure. I'm pretty sure there was also an old Faraday cage in that room… Despite its flaws, I'll always miss some parts of the old ECE building!
What is one of your proudest moments in your career in ECE?
My proudest moment thus far is presenting to a group of international scholars and policymakers at a Department of Defense sponsored workshop in Casablanca, Morocco. I was invited to present my work on mapping and analyzing social media, to inform counter violent extremism (CVE) programs in North Africa. This topic might seem far afield from ECE, but a lot of the work I do now relies on the core skills I learned in signal processing, computer networks, and information and graph theory. To be able to present my research to a group of people who could then use it to improve their social and messaging programs to reduce the amount of violence in their home countries – that was a great feeling, and I'm lucky to be able to work at a place like RAND where I have the potential for that kind of impact on the real world in nearly every project.
What is an important lesson you have learned in your career that you wish you could go back and tell your younger self?
It's okay to fail. Not everything will be easy, and, sometimes, despite trying your best, you won't do well at something. I learned that lesson in graduate school, nearly failing classes for the first time in my life, and coming very close to not passing my PhD qualifying exam. I almost quit because I was struggling so much and I was sure I did not belong. But in the end, my advisors, my mentors, and my family convinced to believe in myself, to fight tooth and nail to stay, and to tell myself that I would have to be pushed out rather than giving up. This lesson has served me very well in my career when I feel out of my depth, whether it's leading a challenging research project or briefing a difficult high-ranking defense official with decades of experience on me. Just because something is hard doesn't mean that you can't do it, and failing one, two, or many times will only make you more resilient. Make them kick you out – don't ever give up – and you will surprise yourself at what you can do.