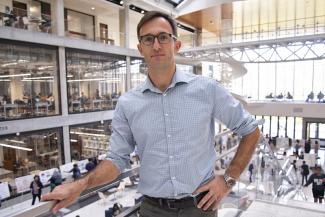 Constantine Caramanis, professor in the Chandra Family Department of Electrical Engineering in the Cockrell School of Engineering at The University of Texas at Austin, has been elevated to Fellow of the Institute of Electrical and Electronics Engineers (IEEE) for 2023. Caramanis was honored "for contributions to robust statistics and optimization in high dimensions."
IEEE Fellow is a distinction reserved for select IEEE members whose extraordinary accomplishments in any of the IEEE fields of interest are deemed fitting of this prestigious grade elevation. Texas ECE now has 32 faculty who have been elevated to IEEE Fellow.
Dr. Constantine Caramanis is a professor and holds the Chandra Family Endowed Distinguished Professorship in Electrical and Computer Engineering #1 in the Department of Electrical & Computer Engineering at The University of Texas at Austin.
Dr. Caramanis joined the UT Electrical and Computer Engineering department in the Fall of 2006. He received his A.B. in Mathematics from Harvard University, and his M.S. and Ph.D. in Electrical Engineering and Computer Science from MIT.
His research interests center on decision-making in large-scale complex systems, with a focus on learning and computation. Specifically, he is interested in robust and adaptable optimization, high dimensional statistics and machine learning, and applications to large-scale networks, including social networks, wireless networks, transportation networks, and energy networks. He also works on applications of machine learning and optimization to computer-aided design.
He received the NSF CAREER Award in 2011, and he is part of theAI Institute for Future Edge Networks and Distributed Intelligence (AI-EDGE) researach team which aims to design future generations of wireless edge networks that are highly efficient, reliable, robust and secure.