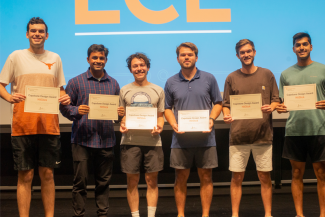 Texas ECE announced the winning teams from the Spring 2022 Capstone Design Showcase at Celebrate ECE on Monday, May 9, 2022.
The Capstone Design Showcase winning teams are:
First Place • Entrepreneurial Category
HitStick
HitStick Technologies creates a durable and reliable collision-sensing system that can be installed into any football helmet at a reasonable price. Our vision is to revolutionize player safety and reignite youth enrollment in contact sports.
Team Members
Nick Canga, Alex Kremer, Austin Rath, Connor Smith, Abhi Sridhar, Zane Zwanenburg
Faculty Mentor
Dr. David Z. Pan
First Place • Industry Category
IoT Vitals Monitoring and Localization System
Our project provides users with a wearable, wireless health monitoring system based on the Internet-of-Things paradigm. In tandem with a set of wireless satellite nodes and data analysis software, our lightweight and low-power monitor offers users enhanced peace of mind by continuously monitoring their heart rate and motion for emergencies while at home. In the event of such a problem, the user, along with any doctors or loved ones, can be alerted by phone and/or email. Our system also offers a live-updated online user interface where patients or other interested parties may check in at any time to view their recent heart rate, motion status, estimated location, and emergency contact information. The wearable's simplicity and 5+ day battery life make it ideal for those in need of a pure health monitoring device, such as elderly or otherwise isolated patients, for whom constant active monitoring may be useful but not feasible.
Team Members
Kameron Davis, Stefan Deitrich, Nicolas Del Valle, Roxana Far, Olanike Oyedele, Bilal Quraishi, Jennifer Smith, Collin Torok
Faculty Partner
Texas Instruments
Faculty Mentor
Dr. Milos Gligoric
First Place • Industry Honors Category
Series Fault Detection in DC Microgrids
Growing demands for electric loads, environmental protection, and high maintenance costs on combatant ships have led the U.S. Navy to invest in fully electric naval ships. These Next-Generation Electric Ships will be powered using Medium Voltage Direct Current (MVDC) shipboard power systems. Series arc faults in these systems can cause fires if left unattended and are a danger to the safety of the systems and humans. Our team has researched several methods of series arc fault detection and localization in MVDC microgrids. We proposed and researched three possible design solutions for experimentation. These methods are adding a shunt capacitor and current sensor in parallel with the load, adding a current sensor to the capacitors already used in the system EMI filters, and finally implementing a resonant circuit in parallel with the load to detect the frequency signature from the arc.
Team Members
Youssef Elsherif, Carson Harraman, Annaclaire Kepple, Reece Lehmann, Ava Lindquist-Sher, Melanie Peck
Industry Partner
Texas Instruments
Faculty Mentor
Dr. Alex Hanson
First Place • Faculty Honors Category (Tie)
Ultrathin Wireless Facial E-Tattoo for Vigilance Monitoring
A pilot's vigilance level can be assessed using EEG (electroencephalogram, measures brain signals) and EOG (electrooculography, measures eye signals), which are collected via physical electrodes placed around the user's head. Based on the U.S. Army's use-case of collecting data mid-flight, our EEG/EOG measurement system must be lightweight, low-profile, and accurate. However, accurate EEG/EOG headsets (used in academic environments) are large and obtrusive, while sleek EEG/EOG devices (sold commercially) are inaccurate. To this end, we propose an EEG/EOG measurement system in the form of an ultrathin facial E-Tattoo which matches the low-profile of consumer EEG/EOG devices while maintaining the data quality of research EEG/EOG devices. Furthermore, we extend the E-Tattoo towards the goal of vigilance monitoring by combining the device with off-board vigilance classification software.
Team Members
Santosh Balachandra, Chase Block, Dominic Genna, Samuel Ochoa, Clark Poon, Nick Riveira
Faculty Mentor
Dr. Nanshu Lu
First Place • Faculty Honors Category (Tie)
Nanoscale Photonic Keys for Security Enhancement
The goal of this project is to create a physical security system that uses nanofabrication to make keys that are irreproducible and work in parallel with other forms of authentication. The optical transmission spectra of the nanofabricated keys contain identifying information used to authenticate the key-owner. Few companies or individuals have access to tools that can fabricate keys with nanometer-scale thin films. Furthermore, uncontrollable and random fabrication variations create uniqueness in the keys, meaning that a key cannot be reproduced by an attacker. Thus, by creating a nanopatterned key, we greatly reduce the risk of counterfeiting compared to physical security systems on the market. In addition to the physical key, we designed a verification system on a raspberry pi 4 board to authorize and authenticate spectra from our keys.
Team Members
Jim Foster, Teddy Hsieh, Rithvik Ramesh, Vivian Rogers,Anthony Salazar
Faculty Mentor
Dr. Seth Bank