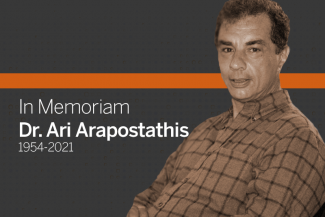 Texas ECE professor Dr. Aristotle Arapostathis passed away peacefully at his home in Austin, Texas on May 19, 2021.
Born in 1954 in Athens, Greece, Ari was the cherished only son of Theodoros and Eleni Arapostathis. His summers were spent swimming in the "wine dark" sea off of the coast of Kalamata, and at a favorite cabin in the Taygetos mountain range, above Sparta. In his formative years, he was educated at Athens College, a private preparatory school. Upon graduation, Ari and his classmates set sail to prestigious universities far and wide. Ari landed at Massachusetts Institute of Technology where he received his B.S. degree in Electrical Engineering and Computer Science in 1976. He received his M.S. and Ph.D. degrees in Electrical Engineering and Computer Science at the University of California, Berkeley in 1978 and 1982. Thereafter, he joined the faculty of the Electrical and Computer Engineering Department at The University of Texas at Austin in 1982, where he remained for the duration of his life.
Ari was a passionate academic, not distracted by the latest trends or the pursuit of accolades. He aimed for the long game. He understood from his early days taking mathematics courses at Berkeley that he had a unique gift for deep mathematical analysis, and he nurtured that gift over the course of his career. He focused on research problems he believed in, and he pursued them relentlessly.
Ari devoted the last 25 years of his career to the problem of understanding how to optimally steer the evolution in time of processes that evolve with uncertainty. This fundamental problem has numerous applications in resource allocation, management of service systems, communication networks, and power systems, among many other application areas. It is often the case that those soldiers who lay the foundations for more applied engineering endeavors go unknown and unsung by the broader engineering community. Ari will be remembered for writing, with cherished colleagues Vivek Borkar and Mrinal Ghosh, a pure, parsimonious, and uncompromising research monograph on his life's work.
Collaboration was an important part of Ari's academic life. He leaves behind a network of co-authors and students with whom he joyously shared his enthusiasm for research. Ari's generosity with his time and intellect was well-known among his colleagues. He was often a point of reference for difficult mathematical problems, problems that he would tackle with fury, staying up all night, until he was victorious. If there is one word that students and colleagues alike would bring up to describe his ethos, it was "intensity''. He consistently believed he could find intellectual common ground with those around him, a quality that endeared him to his students and friends. Ari was a mentor by osmosis – people naturally found him and relied on him. He was always available for a coffee, a renaissance man who could engage on any topic from poetry, the best recording of various classical pieces, avant-garde film, to mathematics and politics.
Ari was a person with a unique ability to tolerate and accept the idiosyncrasies of human nature. He was often the only person who would step into difficult personal and professional challenges to support all sides and bring them closer. He saw an imperative to treat all matters rationally, with humanity and alacrity. When he saw a situation as unreasonable, he said so. He was a guardian of reason.
---
Faculty and staff of Texas ECE will remember Ari fondly.
"Ari was the quintessential intellectual, always ready to engage in a discussion on any topic - academic or non - and could rapidly and cheerfully cut to the deep essence of the argument (with an 'Okay?' at the end). He will be sorely missed."
- Dr. Joydeep Ghosh, Professor, Texas ECE
"Ari was as brilliant as he was patient and kind with his time. He will truly be missed."
- Dr. Sriram Vishwanath, Professor, Texas ECE
"I will miss our talks and hearing his laughter in the building. He had such a great outlook on life. He was very much loved and will be greatly missed."
- Melody Singleton, HR Coordinator, Texas ECE
"Ari was a true scholar, colleague, and friend. Working and visiting with Ari was a pleasure. Ari gave us a wonderful example of a scholar with a good heart. He will be greatly missed."
- Dr. Suzanne Barber, Professor, Texas ECE
"Ari was very involved, thoughtful, thorough, and hands-on. One morning when I arrived for work I found him in my office, and I exclaimed, 'You're here early!' Glancing at his watch, he said,'Oh! Time for coffee. I've been here all night.' A former student once told me that he was the go-to professor for help with math problems. I will miss him and his energy, ready laugh, enthusiasm, and passion."
- Melanie Gulick, Graduate Program Coordinator, Texas ECE
"Ari was easy to work with, and I enjoyed his big personality and hearty laughter. When he would return from Greece, he would bring several boxes of chocolate orange candies (and maybe some stories) to share with staffers. Warm, generous, good-humored – that's how I remember Ari."
- Theresa Claiborne, Events Coordinator, Texas ECE
"Ari was the first person I met at UT, ever, when he picked me up at the airport and took me to a little cafeteria for dinner. I enjoyed the inevitable conversations that would arise when we'd run into each other, and his wry sense of humor always delighted me. He'd always make me laugh, and I suspect this was the case with most others. I most especially enjoyed running into him at Barton Springs Pool where we both loved to spend many hours. He had a great attitude towards life, and I celebrate all that he accomplished and the way he lived."
- Dr. Al Bovik, Professor, Texas ECE
"Ari was an intense and brilliant scholar, who will be missed by many. What I will miss most is his deep friendship, warmth and generosity in sharing his time with others."
- Dr. Sanjay Shakkottai, Professor, Texas ECE
"Ari's passing leaves a void that may not be easy to fill, but his presence and friendship will still be felt by many of us in the time to come." 
- Dr. Diana Marculescu, Chair, Texas ECE
---
Aristotle leaves behind his mother Eleni Arapostathis, cousins Evanthia Kassaveti, Panagiota Nikitaki and nephews Evangelos Nikitakis, Dimitrios Kassavetis and niece Despoina Kassaveti, and many relatives who loved him dearly.
Those who know Ari are keenly aware of this love for swimming, especially at Barton Springs Pool. For those wishing to honor Ari in the form of a donation, they can do so by supporting Save Our Springs Alliance: https://saveoursprings.salsalabs.org/basicfundraisingformcopy1/index.html
Contributions to a scholarship fund in the name of Ari Arapostathis can be made through the Friends of Alec fund of the Department of Electrical and Computer Engineering from The University of Texas at Austin at https://give.utexas.edu/?menu1=ENCE. Please select "Friends of Alec ECE" and mention the gift is in memory of Ari Arapostathis.