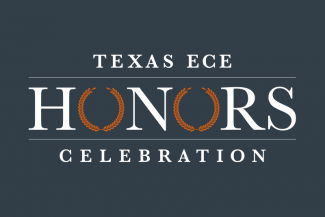 Texas ECE held a banquet on Thursday, April 28 to honor staff and faculty for their successes and contributions during the 2021-2022 academic year.
Here is a list of this year's award winners:
---
Society/Academy Members and Fellows
Faculty who were elevated to members and fellows in the academic year.
National Academy of Inventors
SANJAY BANERJEE
ANANTH DODABALAPUR
EARL SWARTZLANDER
American Association for the Advancement of Science
XIULING LI
African Academy of Sciences
DEJI AKINWANDE
National Academy of Engineering
ALAN BOVIK
IEEE Fellow
SETH BANK
ALEX DIMAKIS
SRIRAM VISHWANATH
ACM Fellow
DAVID Z. PAN
Gordon T. Lepley IV Endowed Memorial Teaching Award
The Gordon T. Lepley IV Endowed Memorial Teaching Award honors alumnus Gordon Taylor Lepley IV of Austin, Texas.
ALAN BOVIK
Junior Faculty Excellence in Teaching Award
WILLIAM FAGELSON
ALEX HANSON
JAYDEEP KULKARNI
Departmental Service Award
In recognition of a faculty member or group of faculty whose service on departmental committees has been above and beyond expectations and has had all-around impact during the year of the award.
NUR TOUBA
DANIEL WASSERMAN
IDEA Award
For contributions to Inclusion, Diversity, Equity, & Access.
SENIOR FACULTY IDEA AWARD
SUZANNE BARBER
NINA TELANG
JUNIOR FACULTY IDEA AWARD
JEAN ANNE INCORVIA
PEDRO SANTACRUZ
STAFF IDEA AWARD
LETICIA LIRA
Departmental Staff Awards
Recognizing the importance of the contributions of our loyal and committed staff to the continuing success of the ECE Department and the University as a whole.
STAFF TEAMWORK AWARD
RICK GOMEZ
STAFF LEADERSHIP AWARD
VERONICA VASQUEZ
STAFF EXCELLENCE AWARD
THERESA CLAIBORNE
DAVID KORTS
University Awards
PRESIDENT'S STAFF AWARDS
Recognizing duration of university service.
KAREN LITTLE
10 Years of Service
CHRISTINE WOOD
10 Years of Service
CAY GARCIA
15 Years of Service
BARBARA HEINE
15 Years of Service
KENNETH ZIEGLER
20 Years of Service
CIVITATIS AWARD
The Civitatis Award was established in 1997 to recognize outstanding faculty citizenship. It is conferred upon a member of the faculty in recognition of dedicated and meritorious service to the university above and beyond the regular expectations of teaching, research and service.
BRIAN EVANS
Retirement Honors
In honor of the years of dedicated service to The University of Texas at Austin and the Department of Electrical and Computer Engineering.
ROBERT METCALFE
2011-2021
JEAN TOLL
2013-2022
Faculty Endowments
In recognition of the fellowships and professorships awarded to current faculty members beginning in the Fall of 2021.
CONSTANTINE CARAMANIS
Chandra Family Endowed Distinguished Professorship
in Electrical and Computer Engineering #1
SANDEEP CHINCHALI
Jack Kilby/Texas Instruments Endowed Faculty Fellowship
in Computer Engineering
SHWETADWIP CHOWDHURY
Jack Kilby/Texas Instruments Endowed Faculty Fellowship
in Computer Engineering
GUSTAVO DE VECIANA
Cockrell Family Chair in Engineering #18
MATTAN EREZ
Cullen Trust for Higher Education Endowed Professorship in Engineering #7
ALEX HANSON
Jack Kilby/Texas Instruments Endowed Faculty Fellowship
in Computer Engineering
YAOYAO JIA
Silicon Laboratories Endowed Chair in Electrical Engineering
HYEJI KIM
Advanced Micro Devices (AMD) Chair in Computer Engineering
XIULING LI
Temple Foundation Endowed Professorship No. 3
RUOCHEN LU
Texas ECE Early Career Fellow
ARYAN MOKHTARI
Jack Kilby/Texas Instruments Endowed Faculty Fellowship
in Computer Engineering
EMILY PORTER
Jarmon Innovation Fund Fellow
SANJAY SHAKKOTTAI
Cockrell Family Chair in Engineering #15
SHYAM SHANKAR
Texas ECE Early Career Fellow
AUGUST SHI
Jarmon Innovation Fund Fellow
JON TAMIR
Jack Kilby/Texas Instruments Endowed Faculty Fellowship
in Computer Engineering
EDISON THOMAZ
Jack Kilby/Texas Instruments Endowed Faculty Fellowship
in Computer Engineering
MOHIT TIWARI
Raytheon Company Faculty Fellowship
HARIS VIKALO
William W. Hagerty Fellowship in Engineering
ATLAS WANG
Jack Kilby/Texas Instruments Endowed Faculty Fellowship
in Computer Engineering
DANIEL WASSERMAN
Temple Foundation Endowed Faculty Fellowship No. 4
ALI YILMAZ
William H. Hartwig Fellowship in Electrical Engineering
HAO ZHU
Jack Kilby/Texas Instruments Endowed Faculty Fellowship
in Computer Engineering