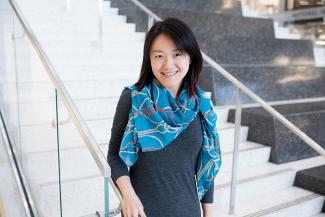 Prof. Hao Zhu of Texas ECE has been selected to participate in the National Academy of Engineering's (NAE) 26th annual US Frontiers of Engineering (USFOE) symposium.  Eighty-five of the nation's brightest early-career engineers who are performing exceptional research and technical work in a variety of disciplines will come together for the two-and-a-half day event. The participants -- from industry, academia, and government -- were nominated by fellow engineers or organizations.
"The Frontiers of Engineering program brings together a talented group of young engineers from different technical areas to spark innovation and facilitate long-term collaborations," said NAE President John L. Anderson. "These relationships are critical in developing creative engineering solutions to the world's problems." 
Hao Zhu is an assistant professor in the Department of Electrical and Computer Engineering at The University of Texas at Austin. Her research interests include energy data analytics and cyber-physical situational awareness for power grids. Dr. Zhu received the NSF CAREER Award in 2017 and the Siebel Energy Institute Seed Grant in 2016.