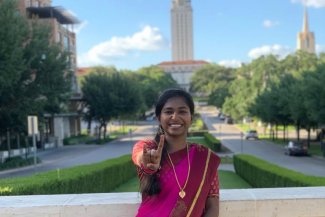 PhD student Rachel Selina Rajarathnam has been selected to receive the Cadence Women in Technology Scholarship. Cadence created the scholarships as part of their strategy to increase and support diversity in tech fields. Students are selected based on a strong academic record, exemplifying leadership, and demonstrating a passion for technology. Scholarship winners receive an unrestricted $5,000 cash award. Rajarathnam is supervised by Dr. David Z. Pan.
"She's not only doing great research, but also actively serving in the IEEE and ECE community," said Dr. Pan. "She established the IEEE Graduate Student chapter at UT Austin and serves as the chair." 
This is the third year in a row that a student of Dr. Pan has won this scholarship, which was started three years ago. Last year, Texas ECE student Zheng Zhao received the scholarship, and in 2018, Texas ECE students Biying Xu and Wei Ye won the inaugural Cadence Women in Technology Scholarships.