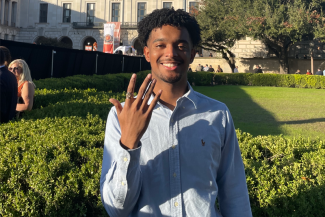 Landon Watson will receive his BSEE from Texas ECE this Spring. We sat down with Landon to discuss his time in ECE and his future plans.
HOW DID YOU END UP AT UT? WHAT PATH LED YOU HERE?
In my sophomore year in high school, I attended a computer engineering camp and built my own computer. Then using the computer that I created, I formulated fun games using basic C++ coding. From that camp experience, I knew I wanted to advance my knowledge in computer engineering. As for selecting UT, I chose this program because I was very impressed with Cockrell's national ranking. My older sister was also attending UT, so this fully secured my decision in committing to UT.
WHO HAS BEEN A MAJOR INFLUENCE ON YOUR LIFE?
My Dad is my hero. Growing up, he taught me that anything in life is achievable as long as you stay positive, focused, and have God in your life. Sadly, during this past winter break, my father lost his battle with brain cancer. I'm grateful for the time I had with my father because, during these past 22 years, he was a great example. Now I have the power to lead and follow in his footsteps.
IF YOU COULD PROVIDE ONE POSITIVE MEMORY OF YOUR TIME AT UT THAT STANDS OUT, WHAT WOULD THAT BE?
Hanging out with my friends is definitely my most positive memory at UT. ECE, most of the time, can be a stressful major, but I go by the rule "Work hard! Play hard!". So when I'm done being an ECE student for the day, I'm out hanging with my friends playing video games, basketball, and enjoying life.
WHAT IS ONE OF YOUR PROUDEST MOMENTS IN YOUR CAREER IN ECE?
In EE 319K Introduction to Embedded Systems, my final project was the greatest memory of all time. The game my partner and I made was a remake of the game Tron, and we were able to place 5th out of 32 teams in the class. With this project, we turned elaborate ideas into reality from scratch. This definitely sparked my passion for software engineering.
WHY IS IT IMPORTANT FOR THE UNIVERSITY TO HAVE A DIVERSE COMMUNITY?
It is important for UT to have a diverse community so we can display representation for young kids of all different backgrounds who want to be future longhorns. Having the representation of various races, ethnicities, genders, sexual orientation, etc, is important because it shows kids "If I can do it, you can do it too." Diverse communities will also offer safe space opportunities to students in the UT community and others who are seeking to join. If we know that the world is a diverse place, and at UT, "What starts here changes the world," we must make sure to take action on diversifying our community more to carry out the purpose of our motto.
WHEN WILL YOU GRADUATE AND WHAT ARE YOUR PLANS FOR AFTER GRADUATION?
I graduate this Spring 2022 semester and after graduation, I plan to work full-time with NVIDIA as a Power Architect!