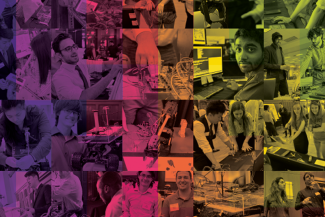 Over the course of the past two semesters, Texas ECE students worked on their Capstone Design projects and this week they competed in the Spring 2021 Capstone Design Contest. Winners were announced during the Texas ECE Honors Virtual Celebration on Wednesday, May 19, 2021.
In the courses, students solve open-ended problems in small groups over two semesters to identify an opportunity, define the problem, analyze competing needs and requirements, perform prior art and patent searches, develop alternative designs, carry out cost analyses, and select and implement a design solution.
Winning teams were selected in three categories: Honors, Industry, and Entrepreneurial.
We would like to thank our industry project partners who teamed up with student teams to conceive and cooperate on projects:
Amazon • Dell • Flapmax • GoodSpeed International • Intel • Micron Technology • Nokia • RWE Renewables • Texas Instruments
All project videos can be seen here.
---
FIRST PLACE: INDUSTRY
RWE Renewables Autonomous Wind Turbine Blade Inspection
Team: Patrick August, Brent Bouslog, Usman Farooqi, Kevin Lee, Natasha Long, Allegra Thomas
Industry Partner: RWE Renewables
Advisor: Dr. Surya Santoso
Description: To reduce the cost, time, and safety risk of wind turbine blade inspections, RWE Renewables tasked our senior design team with developing a drone capable of autonomously inspecting the internal cavities of blades for damages. For this project, our team modified a DJI Mavic 2 Pro drone by attaching LiDAR sensors and LED strips. We then developed an Android app for the DJI Smart Controller that uses the LiDAR sensor data to autonomously navigate the drone through a blade cavity while avoiding walls and thoroughly capturing high-quality footage of internal surfaces. This footage can then be analyzed by an RWE technician to identify any internal blade damages.
SECOND PLACE: INDUSTRY
Project: AUTO2U
Team: Juan Paez, Tyler Pak, Evan Chang, Vijay Srinivasan, Austin Blanchard, Johnson Zhang
Advisor: Dr. Ray Chen
Industry Partner: GoodSpeed International
Project: Auto Monitoring Services
Team: Amit Verma, Tanay Bidnurkar, Justin Liu, Matteo Aguis, Ben Buhse
Advisor: Dr. Earl Swartzlander
Industry Partner: GoodSpeed International
THIRD PLACE: INDUSTRY
Project: PocketBeagle
Team: Andrew Brown, Bibartan Jha, Darius Zinolabedini, Eeshan Sarmah, Jaelyn Bethea, and Joshua Iwe
Advisor: Brian Evans
Industry Partner: Texas Instruments
---
FIRST PLACE: ENTREPRENEURIAL
Verdegro
Team: Adit Jain, Blake Adams, Reid Lindemann, Ricardo Guzman, Jacob Grimm, Sam Yeboah
Advisor: Dr. Mark McDermott
Description: We are Verdegro, the cost-efficient, smart, and sustainable solution for plant growers. Our smart grow box gives customers automated watering, lighting, and temperature/ventilation control, helping them save hundreds of dollars per year.
---
FIRST PLACE: Honors
ENHANCED AUGMENTED REALITY
Team: Deepanshi Sharma, Andrea Nguyen, Tanjeem Mazid, Evan Canter, Alexander Voth
Advisor: Dr. Ananth Dodabalapur
Description: Reduced sound awareness has wide-ranging impacts for deaf or hard of hearing (DHH) individuals, from missing critical notifications such as a ringing fire alarm to inconveniences like a phone ringing at an inappropriate time. We seek to overcome these obstacles to communication with enhanced augmented reality technology. The purpose of our project is to merge computer data and the real world, resulting in a mixed-reality environment that will provide hearing impaired users with a graphical visualization of sound data. This will be accomplished by harnessing optical hardware to combine computer-generated images displaying sound intensities, live captions, and emotional state with what the user is experiencing in real life. The product will be a portable display box consisting of an optical system and microphones that will overlay these graphical visualizations of sound onto the user's view of their environment in real time. The combination of audio data graphics and the user's perception of their real environment will constitute an augmented reality that enhances the user's ability to interact with the world around them.
SECOND PLACE: HONORS
Project: ElectChain
Team: Rainey Shah, Manolo Alvarez, Janine Bariuan, Neeti Shah, James Lin, Jireh Grace Baillo
Advisor: Tej Anand
THIRD PLACE: HONORS
Project: MagicInertia
Team: Christopher Bowling, Ethan Denfeld, Catherine Kauffman, Nancy Licona, Andrea Stephanie Revelo, Jared Vochoska
Advisor: Dr. Alex Huang
Industry Partner: Texas Instruments