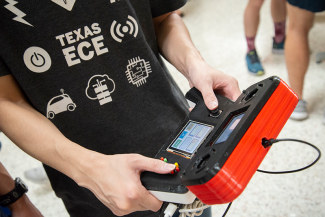 Every semester some Texas ECE courses have competitions to showcase the projects that they worked on during the semester. Here are the winning teams from the course competitions:
445L Embedded Systems Design
First Place
DS Game
Alex Ali, Joe Lawler, Alex Liu,Jorge Lopez
Second Place
Musical Glove
Ravi Akalkotkar, Cole Choe, Wilson Odom, Jesse Valdelamar
445M Grand Prix – Autonomous Robot Races
First Place
Mohit Gupta, Noah Rose, Parker Shiverick, Melissa Yang
Second Place
Jaxon Coward, Erick Cortez Valdez, Jason Fry, Stefanie Thompson
Third Place
Dakota Britton, Carson Graf, Brian Menezes
Data Science Principles
First Place
Can We Teach a Machine ASL?
Mark Liao, Jason Wang, Pierce Phillips, Sonia Shrotriya, Anika Singh
Second Place
Ghosh's Grocery Games
Wilhelm Bagcal, Ryan McSweeney, Johanna McCormack, Emran Khan
Third Place
Who's that Birb?
Michael Chuang, Eralp Orkun, Tianda Huang, Ammar Fatehi, Allen Jiang  
319K Handheld Gaming Competition
Holt - First Place
Die-Ode
Abdullah Alwakeel, Jenna Jacob
Holt - Second Place
Guitar Hero
Nadia Houston, Matthew Schawe
Valvano - First Place
Plants Vs Zombies
Ishan Deshpande, Luke Mason
Valvano - Second Place
Jesta's Pizzeria
Anna Guo, Vivek Keval
Yerraballi (Noon) - First Place
Ice Fishing
Daniel Arriagada, Jacob Marquardt
Yerraballi (Noon) - Second Place
Tetriz
Haakon Mongstad, Britney Pham-Vu
Yerraballi (3:00 PM) - First Place
Fireboy and Watergirl
Jason Dang, Gabriel Mi
Yerraballi (3:00 PM) - Second Place
Overcooked
Raymond Jiang, Reese Welty  
Cuevas - First Place
Systick Surfers
Andrew Chang, Rocco Perciavalle
Cuevas - Second Place
Goblin
Bit Slayer Jack Hinegardner, Ronan Keaveney