The Edison Lecture Series is a free, interactive STEM learning experience that engages middle and high school students with the fun side of electrical and computer engineering. Edison attendees learn the fundamentals of an engineering topic through a university-style lecture, then see these concepts come to life through hands-on demos. Be part of the excitement!
---
Edison Lecture Series 2021
Failing Well: Big Engineering Failures that Led to Big Successes
Feb 1 – Mar 12, 2021
A Virtual Event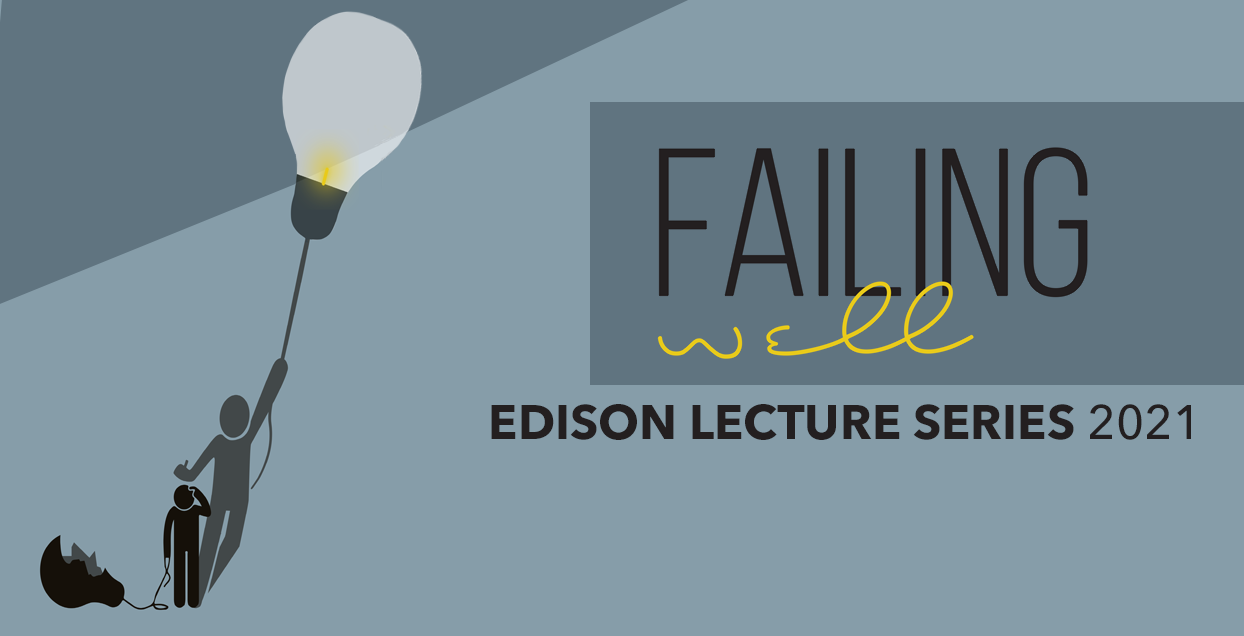 The Edison Lecture Series will be virtual this year!
Register to access asynchronous learning resources in the digital Edison Lecturebank and a livestreamed Q&A Session with Texas ECE professors.
This year's lecture topic is "Failing Well: Big Engineering Failures that Led to Big Successes." When we think about engineering, we think about the grand successes -- the design of the first transistor, the initial creation of the World Wide Web, or the first affordable personal computer. What we fail to think about, indeed what we often fail to see at all, is a long succession of "failures" that lead up to each of these grand successes. Join us for the Edison Lecture Series 2021 as we investigate some well-known and not-so-well-known engineering failures. We'll also have some surprise visits from other experts speaking frankly about their own failures and how they turned into wins.
The Edison Lecturebank
Registered classrooms will have access to the Edison Lecturebank from Feb 1 – Mar 12, 2021. The Edison Lecturebank will house a variety of asynchronous digital video resources, including four pre-recorded mini-lecture videos (about 15 minutes each) on this year's lecture topic, "Failing Well." It will also contain supplemental electrical and computer engineering demo videos showing fun and exciting work being done by real ECE students, professors, industry partners, and community STEM educators. Each mini-lecture and demo video will come with a few discussion questions that you can use in your classroom discussions or homework assignments.
Livestreamed Q&A Sessions with Texas ECE Professors
After watching the Edison mini-lectures and ECE demo videos in the Lecturebank, participanting STEM classes can attend livestreamed Q&A Sessions run by the presenting Texas ECE professors, Christine Julien and Sanjay Shakkottai. Submit your class's questions in advance and watch the livestream as a class on Monday, February 22, 2021 from 2:00 PM - 3:00 PM CST. Those who cannot attend at that time are welcome to submit their questions anyway, and can then watch the recording, which will be posted to the Edison Lecturebank after the live session.
Register to get access to the Edison Lecturebank from Feb 1 – Mar 12 and for Q&A session access details.
---
The 2021 Virtual Edison Lecture Series is brought to you by the Department of Electrical and Computer Engineering at The University of Texas at Austin.
---
Get Involved
Wanted: Kid-friendly Demo Videos
We are looking for fun videos of ECE demos that will inspire the next generation of electrical and computer engineers. It's your time to show off and illustrate all of the ways that engineering can be fun, cool, inspiring, and entertaining. What kind of a demo would have blown your mind when you were twelve? What kind of a demo would make your average middle or high school student say "engineering looks fun!"
We are NOT looking for technical explanations, but we ARE looking for real engineers and engineering students to show off the most flashy and fun work that they do. If you have a demo that looks cool and involves lasers, robots, video games, VR/AR, explosions (safe ones of course), rockets, race cars – anything awesome – please send us a video showing off your work in language that would be accessible to students as young as 11 years old.
Submit a video and inspire the next generation of engineering by simply having fun doing what you do!
Submission Deadline:
Submit videos by Jan 28, 2021
Submission Instructions:
Email Andrew Carr to request video upload link
Video Guidelines:
Video should be in .mp4 format and at least 720p (1280 x 720). There should not be any company logos in your video where possible.
---
Contact Us
General questions, including how to register a student group, how to do demos at the event, bus parking, etc.:
Poster Contest Submission Questions:
Company Sponsorship questions:
---
Edison Poster Contest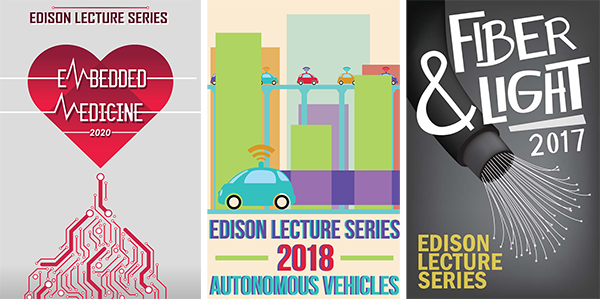 Every year, the Edison Lecture Series hosts a poster contest to design the poster for the following year's lecture. The winners will be announced at the 2021 Edison Lecture Series.
Deadline: Monday, February 15, 2021
Topic: Augmented Reality and Virtual Reality
Description: After lengthy stints in relative isolation, we all need a dose of a slightly different reality! Luckily we have made great strides in recent years in using technology to embellish the world around us by augmenting our senses with visual, auditory, and even tactile illusions. Just a short step further is providing a completely virtual reality; by donning some simply glasses or a more complex full-body suit, you can immerse yourself in an entirely different world. While these experiences are the stuff of science fiction and are often pitched for entertainment purposes, they can also help us more safely or effectively navigate our environment -- to explore dangerous situations, to provide better healthcare, or to make driving safer. Join the Edison Lecture Series in 2022 to see just what is possible. (Description should not appear on poster)
Submission Instructions:
Please submit all work by emailing a link to a Dropbox or Google Drive folder to Andrew Carr, or your teacher can make a Dropbox link for your entire class's submissions. Please TITLE your file with your name and school.
Design Suggestions
Keep the theme in mind. If the topic is "software", think about what images relate to software.
Images of "gears" are representative of mechanical engineering, not electrical and computer engineering.
Take a step back and look at your design. If you didn't know what the event was, would you be able to guess based on your design?
Technical Requirements:
Please TITLE your file with your name and school.
Posters should be 11" x 17" (portrait or landscape) in a high-resolution PSD or PDF format.
Artwork should be 300 dpi or higher.
All text should be at least 1/2" away from the edge of the paper.
Any questions regarding file types or requirements should be sent to Andrew Carr.
---
Edison Through the Years
2021 Failing Well
2015 Big Data
2014 Mobile Computing
2011 Software is Engineering
2010 Innovation
2009 Changing the World One Engineer at a Time
2008 Television and Surveillance
2007 Renewable Energy
2006 Microprocessors
2005 Communications