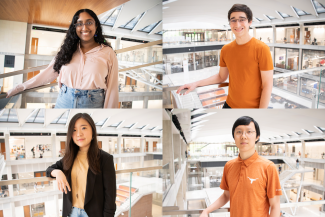 Four students from the Chandra Family Department of Electrical and Computer Engineering were chosen as Fellows of the National Science Foundation's Graduate Research Fellowship Program (GRFP). Isha Chakraborty, Greg Holste, Hannah Lee, and John Ting of were selected for the program which recognizes and supports outstanding graduate students in NSF-supported science, technology, engineering and mathematics disciplines who are pursuing research-based master's and doctoral degrees at accredited United States institutions.
Two Texas ECE students, Vivian Rogers and Rithvik Ramesh, were also named as Honorable Mention.
The Fellowship includes a three-year annual stipend of $37,000 along with a $12,000 cost of education allowance for tuition and fees (paid to the institution), as well as access to opportunities for professional development available to NSF-supported graduate students. The program dates back more than 70 years, making it the oldest graduate fellowship of its kind, and it has historically funded a little more than 10% of applicants.
Past fellows include former U.S. Secretary of Energy Steven Chu, Google founder Sergey Brin and Freakonomics co-author Steven Levitt.
Since 1952, NSF has funded more than 60,000 Graduate Research Fellowships out of more than 500,000 applicants. Currently, 42 Fellows have gone on to become Nobel laureates, and more than 450 have become members of the National Academy of Sciences. In addition, the Graduate Research Fellowship Program has a high rate of doctorate degree completion, with more than 70 percent of students completing their doctorates within 11 years.
Isha Chakraborty is an undergraduate student who joined Texas ECE in 2019 and will graduate in May. This fall Isha will begin a PhD program in mixed-signal integrated circuit design. Isha's research at Texas ECE was in 2D material fabrication, the integration of novel devices in digital power management circuits, and wireless multimodal neural interface devices. During her time in Texas ECE, Isha has been advised by professors Jean Anne Incorvia, Yaoyao Jia, and Jaydeep Kulkarni.
Greg Holste is a graduate student in Texas ECE who received a BA from Kenyon College in 2020. Greg is supervised by Dr. Atlas Wang. Greg's research centers around healthcare applications of deep learning and computer vision. He is primarily interested in image-based computer-aided diagnosis: how can we develop algorithms to automatically diagnose and treat disease based on imaging modalities like chest radiography and ultrasonography? "I'm privileged to develop these methods alongside clinician-scientists whose expertise guides us toward clinical problems where an automated approach may have the best chance of ultimately improving patient outcomes," said Holste.
Hannah Lee is an undergraduate student who joined Texas ECE in 2019. This fall Hannah will begin pursuing a PhD degree at Stanford University. Hannah hopes to pursue research in the intersection of electrical engineering and neuroscience, with the hope of better understanding how the brain works and translating this into interventions that can help people with neurological disorders. While at Texas ECE, Hannah has pursued research on (1) evaluating and optimizing the use of electrical impedance tomography on computational head models to rapidly diagnose stroke, (2) developing a rapid skin cancer diagnostic tool using electrical impedance tomography and graphene tattoos, (3) creating a EEG source localization pipeline to predict likely sources of activity in the brain, (4) testing the impact of applying non-invasive stimulation to the brain on particular cognitive features, and (5) developing a multimodal brain imaging method that measures brain activity using both EEG and microwave imaging. She has worked with professors José del R Millán and Emily Porter.
John Ting is a graduate student in Dr. Jean Anne Incorvia's INC Lab. John received his BSEE from the University of Maryland and joined Texas ECE in 2022. His research is focused designing better materials for spin-based memory systems and on-chip inductors. 
Rithvik Ramesh is a current master's student in the Texas ECE BS/MS Integrated program and will earn the BSEE and the MSE in ECE in spring 2023.
Vivian Rogers is a current master's student in the Texas ECE BS/MS Integrated program and will earn the BSECE and the MSE in ECE in a future semester.