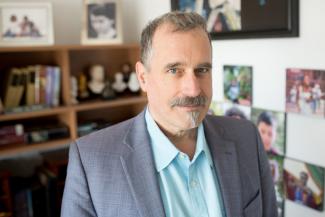 The National Academy of Television and Arts & Sciences has awarded Alan Bovik, professor in the Cockrell School of Engineering at The University of Texas at Austin, and his team of student collaborators with a 2020 Technology & Engineering Emmy® Award. The team will be recognized for algorithms that optimize streaming media to millions of homes around the globe.
Bovik's algorithms for perceptually optimized compression of streaming video control 70% to 80% of all bits transmitted across the internet, and are used by streaming giants like Netflix, Amazon, and YouTube. The algorithms control the compression of videos as they are streamed, using theories of visual neuroscience to make them perceptually optimal — as visually appealing to the human eye as possible. These compression algorithms greatly reduce the bandwidth needed for streaming media, while increasing video quality and making it easier for people with slower internet connections to access content online.
"Al's inventiveness in the engineering of visual perception has brought smooth and uninterrupted streaming media to millions of people around the world," said Cockrell School Dean Sharon L. Wood. "This is especially significant now, when many of us are working remotely and spending so much of our lives online. I am proud to see Al and his team honored by the industry that his work impacts the most."
The awards will be presented at the 72nd Annual Technology & Engineering Emmy® Awards Ceremony, which is tentatively scheduled to be a virtual event in partnership with the National Association of Broadcasters Show on Sunday, Oct. 10, 2021.
In 2015, Bovik and his team won a Primetime Engineering Emmy Award for Outstanding Achievement in Engineering Development for inventing the Structural Similarity (SSIM) Video Quality Measurement Model. SSIM, which estimates the perceived quality of an image or video, is one of the many algorithms Bovik has created.
"We've been in this space of perceptual video — using principles of visual neuroscience to understand how the brain processes video – and then applying it to learn how to best compress and optimize it — for two to three decades," Bovik said. "Even though it is a very theoretical field, our aim is to bring what we learn from visual neuroscience into practical applications that can impact the world. It is an honor to be recognized by the Academy for this work."
Bovik's graduate students have been instrumental in the video quality research over the last few decades. Many of them have gone on to work for the same streaming companies their research directly affected. Bovik cited Hamid Sheikh, now working at Samsung America; Kalpana Seshadrinathan, Apple; and Rajiv Soundararajan, Indian Institute of Science Bangalore as key student contributors to the research.
"Their thirst for knowledge in this very multi-disciplinary and challenging field, which covers neuroscience, artificial intelligence, optics and more, has always inspired me," Bovik said of his students.
Bovik joined The University of Texas at Austin in 1984, and he has since served as director of the Laboratory for Image and Video Engineering in the Cockrell School. His research interests lie at the confluence of video engineering and visual neuroscience, where he is well known for creating perception-based models and algorithms for predicting or improving the visual quality of images and videos. He has published more than 900 papers in related fields, which have been cited more than 100,000 times in the open literature.
He has received numerous awards and accolades for his contributions in this field. Most recently, he was awarded the 2019 Progress Medal from the Royal Photographic Society, the oldest and most prestigious honor in the field of photography.