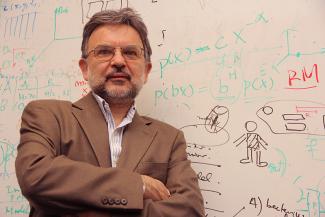 A paper by Prof. Radu Marculescu of Texas ECE and co-authors Umit Y. Ogras and Jingcao Hu has been selected by Embedded Systems Week (ESWEEK) to receive the 2020 ESWEEK Test-of-Time Award for The International Conference on Hardware/Software Codesign and System Synthesis (CODES).
Their paper, "Key research problems in NoC design: a holistic perspective," was published at CODES 2005. The award will be presented during a virtual conference on September 22, 2020.
Prof. Radu Marculescu is a professor and  Laura Jennings Turner Chair in Engineering in the Department of Electrical and Computer Engineering at The University of Texas at Austin.
For his work on design automation and embedded systems design, he has received the Donald O. Pederson Best Paper Award from the IEEE Trans. of Computer-Aided Design of Integrated circuits and Systems in 2012, the Best Paper Award of IEEE Trans. on VLSI Systems in 2018, 2011, and 2005, the 10-Year Retrospective Most Influential Paper Award from the Asia and South Pacific Design Automation Conference in 2013, as well as several best paper awards in major conferences and symposia.
Radu is a Fellow of IEEE cited for his contributions to the design and optimization of on-chip communication for embedded multicore systems.