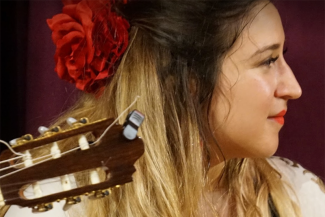 We sat down with PhD student Sofia Hurtado to discuss her experiences at Texas ECE.
How did you end up at UT? What path led you here?
I'm a 2nd year PhD student working in the intersection of mobility tracking, social sensing, and epidemics under Professor Radu Marculescu in the ECE department. Outside of school, I'm also a flamenco dancer and have enjoyed becoming a part of the dance community here in Austin. 
Who has been a major influence on your life?
I'm grateful to have many mentors over the years in both my personal and professional life. In fact, each woman in my family fearlessly tackled fields that were unobtainable to them at the time and paved the way for someone like me to continue doing the same. In addition to my own family, my extended family of dance teachers (Juanita Franco, Carolina Loyola-Garcia, and Olivia Chacon) have shown me the way to run a business while building up a community. And last but not least, my PhD advisor Radu Marculescu created a space for me and continues to encourage me to chase down research interests in a field I used to only dream about. 
Why is it important for the university to have a diverse community?
It's important to have a diverse community on campus to 1) mitigate the minority tax (added burden on minorities to educate others on why they should be included in institutions), 2) actively remove the infrastructure of exclusion that gate-keeps underrepresented minorities from positions of power 3) help empower students, staff, and faculty to advocate on the behalf of their needs without fear of retribution, and lastly 4) to reduce isolation so that entering a field doesn't have to mean walking into a space devoid of familiar cultures.