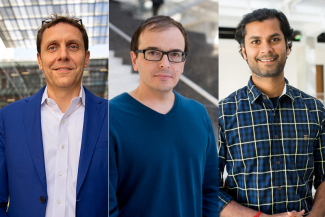 A team of researchers from Texas ECE were awarded a Top Pick in Hardware and Embedded Security 2021 by the IEEE Hardware Security and Trust Technical Committee (HSTTC) for their work on "Horizontal Side-Channel Vulnerabilities of Post-Quantum Key Exchange Protocols." The paper is a collaboration between Andreas Gerstlauer, Michael Orshansky, and Mohit Tiwari, all of Texas ECE, Aydin Aysu of North Carolina State University, and Youssef Tobah, a PhD student at The University of Michigan.
The paper proposed one of the first power side-channel attacks on post-quantum key exchange protocols and demonstrated a critical vulnerability in the implementation of two major protocols proposed for standardization. This in turn helped to inform the design of future power side-channel secure postquantum cryptographic systems. The paper was originally published in the 2018 IEEE International Symposium on Hardware Oriented Security and Trust (HOST), where it was a Best Paper Award Finalist. 
Top Picks in Hardware and Embedded Security awards are presented to the best and high impact recently published works in the area of hardware and embedded security. The works are selected from conference papers that have been published during the previous six years.
Aydin Aysu is an assistant professor in Electrical and Computer Engineering at North Carolina State University (NC State). Before joining NC State, he was a post-doctoral researcher at the University of Texas at Austin. Dr. Aysu conducts research on cybersecurity with an emphasis on hardware-based security. The focus of his research is the development of secure systems that prevent advanced cyber attacks targeting hardware vulnerabilities. To that end, his research interests cover applied cryptography, computer architecture, and digital hardware design. He also works on cybersecurity education and the societal impacts of cybersecurity.
Youssef Tobah is a PhD student in Electrical Engineering and Computer Science at the University of Michigan, Ann Arbor. He received his BS in Electrical and Computer Engineering from UT Austin in 2017. While at UT Austin, he worked as undergraduate researcher under the supervision of Profs. Gerstlauer, Orshansky and Tiwari. 
Andreas Gerstlauer is a professor, holder of the Engineering Foundation Endowed Faculty Fellowship in Engineering, and the Associate Chair for Academic Affairs in the Department of Electrical & Computer Engineering at The University of Texas at Austin. Dr. Gerstlauer is co-author on 3 books and more than 100 conference and journal publications, and he has presented in numerous conference and industrial tutorials. His work was recognized by a 2016-2017 Humboldt Research Fellowship, the Best Research Paper Award at the 2016 Design Automation Conference (DAC), the Best Paper Award at the 2015 International Conference on Embedded Computer Systems: Architectures, Modeling and Simulation (SAMOS), several best paper nominations from, among others, DAC, DATE and HOST, and as one of the most influential contributions in 10 years at DATE in 2008. 
Michael Orshansky is a professor in the Department of Electrical and Computer Engineering at The University of Texas at Austin and holds the John E. Kasch Endowed Faculty Fellowship in Engineering. He has published over 100 technical articles and holds three U.S. patents. He is the author of the book "Design for Manufacturability and Statistical Design." Dr. Orshansky is the recipient of the National Science Foundation CAREER award, ACM/SIGDA Outstanding New Faculty Award, IEEE Transactions on Semiconductor Manufacturing Best Paper Award, Best Paper Award at Design Automation Conference, Best Paper Award at International Symposium on Quality Electronic Design, and IEEE/ACM William J. McCalla ICCAD Best Paper Award. He is a Fellow of IEEE.
Mohit Tiwari is an associate professor and holds the Raytheon Company Faculty Fellowship in the Department of Electrical and Computer Engineering at The University of Texas at Austin. His current research focuses on building secure systems, all the way from hardware to system software to applications that run on them. Tiwari and his team have designed and built the first secure processor that obfuscates all digital signal outputs, including even addresses to physical memory. This processor, implemented on a Convey FPGA-based server, can be used as a root of trust in datacenters where an attacker (a malicious employee, for example) has physical access to confidential computation.