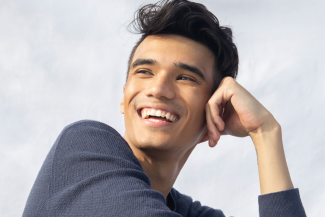 We sat down with alumnus Elvin Galarza to discuss his time at Texas ECE and his career in electrical and computer engineering.
---
Elvin Galarza received his BS in Electrical Engineering from Texas ECE in 2019. While at Texas ECE Elvin served on the Undergraduate Advisory Board, served as Vice President - Valley Alliance of Mentorship for Opportunities and Scholarships, and was a member in the Society of Hispanic Professional Engineers, National Society of Black Engineers, Student Leadership Institute, and IEEE. He received many awards and recognitions including the Dr. Ajoy K. Bose Endowed Scholarship in Electrical Engineering, Forbes Under 30 Scholar, UPROSE Climate & Political Action Award, Dennis and Patricia Sharp Endowed Scholarship in Engineering, Minnie Stevens Piper Scholar, Stars on the Rise Award, Valley Alliance of Mentorship for Opportunities and Scholarship, Bridge Scholar Merit, Phillips 66 Award, and Texas Exes Hidalgo-Starr County Award. 
Tell us a little about what you are doing now.
I'm a Technical Product Manager at IBM covering Cloud, Kubernetes, and Containers - specifically Red Hat OpenShift and Kubernetes Service on IBM Cloud. It's exciting being at the intersection of UX, business, and technology because I'm growing and forging the skills and tools I need to become a successful social entrepreneur in the future.
How did you end up at UT? What path led you here?
Initially, college didn't seem like an option. I was first-generation, growing up with a single mother along the US-Mexico border - and a lot came (or didn't come) with that. We also weren't in a good financial situation. By the time I was 18 years old, I'd moved to 4 cities, lived in a homeless shelter and transitional housing, stayed at 5 different "permanent" residences, attended 4 elementary schools, 2 middle schools, and 2 high schools. I experienced countless displacements in living and at school, so I never really grasped what I wanted to do and where I wanted to go. Thankfully, at my second high school, a college advisor, Kristy De la Garza, helped me realize my potential and guided me to move to Texas's growing tech hub and attend UT Austin.
Who has been a major influence on your life?
My mother. If she was tired, it was because we were safely asleep. If she was hungry, it was because our stomachs were filled. She worked over 12 hours a day, for 5-6 days a week - from one of the largest hospitals in the state of New York to the same in the Rio Grande Valley - when we were in the shelter and after it. My mother's tenacity, perseverance, and resilience molded me into the person that I am today.
If you could provide one positive memory of your time at UT that stands out, what would that be?
For me, it was finding a community that I could consider home away from home. Life was throwing me some hard punches, and it affected me in many ways. My professors, TAs, Summer Bridge friends, FSA, NSBE, SHPE family, and peers helped me feel safe and important, and I attribute a lot of my academic and, subsequently, my early career success to them.
What is one of your proudest moments in your career in ECE?
Completing my Senior Capstone Design Project was a true testament and culmination of my academic and industry experiences. There was a fantastic vibrance among the students at the contest - a lot of us were energized because this was the end of our undergraduate experience, and many of us would be traveling across the world to fulfill our new full-time roles in the industry. We were also graduating a semester later than the traditional student, so sharing this energy with peers who had circumstances like mine was fulfilling.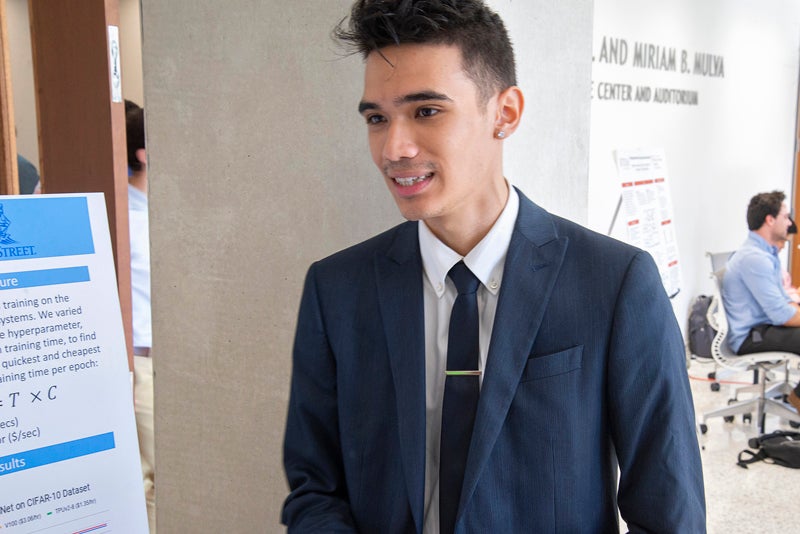 Capstone Design Showcase, Fall 2019
What is an important lesson you have learned in your career that you wish you could go back and tell your younger self?
I'd share a quote with him: "We cannot change the cards we are dealt, just how we play the hand." - The Last Lecture by Randy Pausch. I learned of this book through my Software Design and Implementation class. I wish I'd heard about and read it sooner. In the final month of my undergrad, I fully realized that you're more than just a number. You see, when I became homeless during my transition from 2nd grade to 3rd grade, it was the summer of 2005. That year, about 1.5 million children in the United States were experiencing homelessness like me. About 1.14 million were projected not to finish high school; that's 3 out of every 4 children.
I started college early through Summer Bridge and ended later than most students, but I did it. I defied the odds and was that 1 out of 4. This leads me to another important lesson, uplift your community and bring them with you. I think about those 3 out of 4 every day; where they're at and what they're doing. Everything I do today is so that number is reduced tomorrow.
Why is it important for the university to have a diverse community?
I've learned a lot from all the diversity, inclusion, and belonging initiatives I've taken part in. Something that sticks out to me is exposure. On a whim, I decided to pursue Electrical and Computer Engineering instead of my aspiration to be a Social Worker. I didn't believe I could be an Engineer. Why? Growing up, I never saw anyone who looked like me, sounded like me, and came from a place like me that was in that field. The university needs to have a diverse community so that people like me know that a family is waiting for them and they can thrive, too... because what starts here really does change the world.
---