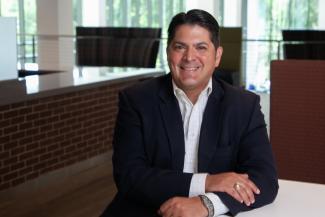 Rudy D. Garza is the President & CEO at CPS Energy. He received his BSEE from Texas ECE in 1996. Currently he serves on the External Advisory Committee of Texas ECE. We sat down with Rudy to find out more about his time in Texas ECE and his successful career in industry.
Tell us a little bit about what you are doing now.
For the last year, I was honored and privileged with the opportunity to step in to be the interim President & CEO of CPS Energy. We've gotten a lot accomplished through some very difficult times. There were a number of key accomplishments, including a difficult rate case discussion with our community and just a pivot in the direction of more accountability and transparency in a post Winter Storm Uri world. Our Board of Trustees recently voted in late August of 2022 to name me permanent President & CEO of CPS Energy, which is the nation's largest municipally owned electric and natural gas utility for the 7th largest city in the country. With the interim and now permanent positions, I've been in this role for about a year now and I'm really excited about the opportunity to lead this great organization.
How did you end up at UT and what path led you there?
Growing up, I was always a big fan of UT quite frankly. I only applied to two schools. I applied to UT and got in at the end of my junior year of high school. I got a great academic scholarship that pretty much paid most of my tuition. My family kicked in what I needed for living expenses and UT was it. I also got into Stanford but chose UT.
Texas has always been kind of part of who I am.
I was super excited. Honestly, once I got interested in UT and made good enough grades to get in, the path always was Texas. My decision to major in electrical engineering was a different story. I had to do a little bit more thinking about whether or not I wanted to go into engineering or business. Ultimately, I decided on electrical engineering and it was a great decision for my undergraduate degree.
Who has been a major influence on your life?
My family generally has been the biggest influence in my life. It's well known, I was born to teenage parents and my grandparents stepped in because my parents had to work. I was raised by my mother's parents. My grandpa and grandma, Ruben and Ernestina Cavada, were probably the biggest influences on my life. My parents are both still very active in my life.
We didn't have everything in the world when I was growing up, but I had a very strong family presence. My family was always there. They helped drive me to try to achieve success.
If you could provide one positive memory of your time at UT that stands out what would that be?
Part of the reason I went to UT was I wanted the big college experience. I wanted the huge burnt orange game day, football experience. I only missed one football game in my time at Texas. I went to every OU game and every single gameday experience was great. I was also in a Hispanic fraternity, Phi Kappa Theta, and those memories were fantastic. Some fraternity members are close friends of mine to this day. I joined the Texas Wranglers a little later in college and that was a great experience too.
I did UT about as right as you could do UT. I had a lot of great experiences, made a lot of great friendships. I mean, part of the reason why to this day, I bleed burnt orange is because I really took advantage of having the best college experience I could possibly have.
I found a way to graduate in the middle of all that, which was really good, too. UT has really defined a lot of who I am as a person.
What is one of the proudest moments in your career in ECE?
Maybe the bravado of youth was that I chose "Double E," [electrical engineering], because I knew it was one of the hardest majors on the UT campus and I wanted to start challenging myself to the highest extent possible. I was just too stubborn to ever give up on it. Double E meant I was studying when I wasn't doing other things, pretty much all the time. I surrounded myself with good study partners, which you have to do at a school like Texas to be successful. There are a lot of folks who didn't make it through the Double E program. I've actually got a picture of my study group that I use all the time in my professional life. We're still close to this day.
Graduating from the Electrical and Computer Engineering (ECE) program was probably my proudest moment because it's like a scene from Survivor. You're trying to just survive each semester and advance. I was able to do that.
What is an important lesson you have learned in your career that you wish you could go back and tell your younger self?
I'm just not the kind of person that lives with a lot of regrets or kind of hindsight is 20-20. I guess it would be to focus and double down even harder on relationships, going all the way back to college.
You invest in relationships that pay back over time when you need them to be there.
The relationships were a big part of my success at UT. You could probably do more to connect better and maintain relationships longer. I've lost contact with some great people who've gone on and done some great things. So, if there's ever any hindsight, it's staying connected to the people that can make you better. Although I have a lot of those folks in my life today. But investing in relationships is probably something I'd go back and maybe do a little better during my time at Texas.
Why is it important for the university to have a diverse community?
I'll tell you going back to my time at Texas there were not a lot of folks who look like me majoring in Double E. There are just not a lot of Hispanics that go into technical majors quite frankly. My hope is that those numbers have gotten better. I've served on advisory councils to the Cockrell School of Engineering and I currently serve on the advisory council to the ECE program. I do think the numbers are getting better, and I do think Texas is doing a better job overall of helping students advance and stay with it. We had a lot of attrition when I was there. I think the numbers were as low as 15-20% of students who started out in Double E actually finished. I knew back then that Texas could do better than that. I think university administrators are working hard to help students stick with the program. That's why diversity is important.
Diversity is something that makes everybody better. Diversity in corporations today means you have to look like your customer base. UT is a state institution and enrollment should look like the State of Texas demographics. I think we're doing better but there's always opportunities. I'm hopeful that Texas will continue to focus on diversity.
Anything you'd like to add for our alumni?
I would encourage you to find ways to stay connected to the mothership. Stay connected to UT. It's not just about football and trust me, I go to every UT home game I can possibly attend. This continues to be a big part of my life to this day. But you have to give back to the school that you graduated from. I mentioned that I serve on the advisory council for the ECE school, and that's the way I try to stay connected and give back. If you can't spare the time, help by contributing to the capital campaigns. Texas is always raising money for various purposes on the academic side. I encourage alumni, if you can't give your time, give of your treasure. Figure out a way to give back. I would not be in this position, as President & CEO of CPS Energy, if it had not been for my time at Texas, and I'm hugely thankful and honored to be a representative of a great flagship university.
We should all feel proud of getting the opportunity to graduate from a school like UT. Find a way to connect. Find a way to stay involved. UT will be the better for it.