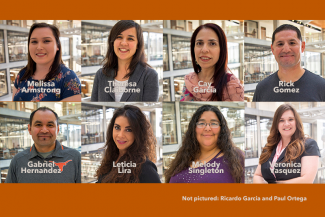 As Hispanic Heritage Month comes to a close, Texas ECE would like to recognize and celebrate our staff who are integral to the success of the students and faculty of our community. The department could not function without their tireless efforts every day. If our staff have made a difference in your life at Texas ECE, let them know!
"Having a diverse community fosters creativity and innovation which leads to expanding skills, knowledge, experience, and talent within the community," said IT Director Gabriel Hernandez. "Everyone's distinctive background, culture, and personalities provides a unique and often fun perspective within the community.  It can also establish great camaraderie with your peers, which makes the community a fun place to be a part of."
"Everyone has a safe space and a voice," said Melissa Armstrong.  "Change and progress are born out of having diversity and inclusivity."
"I have been a part of the ECE community for 16 years and in this time everyone, staff, faculty, official visitors and students have all be very welcoming," said Melody Singleton. "This was such a blessing to someone that came from having worked mainly in administration in various parts of the UT community. Being a part of the ECE community allowed me to learn not only about the different types of research that our faculty and students are performing, but about the different cultures that everyone is from. Learning this has helped me better understand the needs of the ECE community as a whole and to being a more compassionate person."
---
Melissa Armstrong
As Senior Administrative Associate for the Student Services Office, Melissa is integral to supporting students and faculty to make the academic process smooth and effective.
Theresa Claiborne
Theresa is the Events Program Coordinator and plans and manages events for the department. Events are crucial to having a full student experience and forming communities between students, faculty and staff.
Cay Garcia
Cay is a Senior Administrative Associate in software engineering and supports the needs of faculty and graduate students. 
Ricardo Garcia
Ricardo is a Technical Staff Assistant at the Microelectronics Research Center and facilitates the equipment and researchers using the high-level research equipment at the Pickle Research Center.
Rick Gomez
Rick is a Senior Systems Administrator in the department's IT group making sure that all of the equipment for the department is optimized to facilitate research.
Gabriel Hernandez
Gabriel is the Senior Information Technology Manager for the department and manages all IT services to facilitate, research, academics, and administration.
Leticia Lira
Leticia is the Senior Administrative Associate for the Computer Architecture Group and supports faculty and graduate students in all of their pursuits.
Paul Ortega
Paul is a Senior Systems Administrator in the department's IT group making sure that all of the equipment for the department is optimized to facilitate research.
Melody Singleton
Although Melody recently left the department, she served Texas ECE for 16 years and was invaluable in all of the many roles she served in the department. Most recently Melody was the HR coordinator and assisted students, staff, and faculty with their many needs to make their experience smooth and successful.
Veronica Vasquez
Veronica is the Director for Academic and Administrative Services and helps manage the curriculum, advising, and success of all students in Texas ECE.