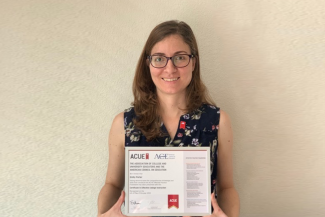 Prof. Emily Porter of Texas ECE has joined the inaugural cohort of faculty certified in Effective Online Teaching Practices by the Association of College and University Educators (ACUE). We spoke to Prof. Porter about the importance of effective online teaching and how online teaching will continue to change the classroom.
---
Why did you choose to pursue this course?
I chose to take this course because I have always loved learning and I wanted to make sure that I was doing all I could to be the best teacher possible. I wanted to make my classes exciting and engaging, but was struggling with the best way to also cover tough and tedious theoretical material. I was looking for a research-based educational approach to help me best balance these. Also, I saw that this course included really concrete examples – like videos of teaching practices being implemented in different classes – so I was confident that I would be able to take away some really practical and usable educational practices. This course covered mainly online teaching approaches but we also were able to access the material for in-person courses, so I fully expect that I will be able to translate everything I learned back into the in-person classroom as well.
Why is it important for faculty to understand there is a difference between online teaching and in-person teaching?
Teaching online is a completely different atmosphere than teaching in-person (as we have all learned this past year!). Online, we need to work harder to engage and motivate students. We also need to find more creative ways to foster connections both between ourselves and the students, and between the students themselves. Students don't have an easy way to talk with each other to ask questions or discuss homework problems unless we facilitate that for them.
What is one way your teaching will be modified for online instruction after completing this course?
Since I really wanted to foster connections between students, one change that I made that worked well was to provide time during our synchronous class for student to work together on their group projects. I did this to make sure students would have time to meet, and wouldn't have to worry about scheduling conflicts. This resulted in some really awesome team work and impressive final projects.
Do you think it would be beneficial for all faculty to pursue instruction techniques in online teaching?
In general, I do think it is very beneficial for faculty to learn about teaching approaches, whether online or in-person. A lot has changed since most of us were students in university, and the research on education shows that the way we learned (typically through the traditional 1-to-many 100% lecture-oriented classes) may not actually be the best way to support student learning today. Therefore it's important for us to keep up with best practices in education – as teachers we are constant learners as well.
While I hope we will be able to get back to having in-person teaching for many courses in the near future, online teaching is only likely to become more common in the future. I think we will see some interesting hybrid educational courses in the coming years, due to the flexibility that this approach offers and because – as we have learned over the past year – some aspects of courses do work really well online.
Overall, I'm really pleased that I had the opportunity to take this course. I learned a lot about educational practices that have allowed me to improve my courses and I hope improve my student's experience! I've learned about everything from how to write a really strong, clear and understandable project assignment, to strategies for how to best assign break-out discussion groups, to how to define a grading rubric that sets student's expectations in terms of deliverables.