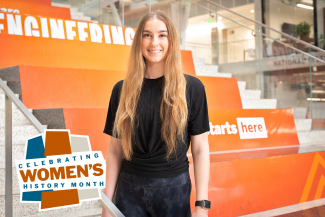 Hannah Amitrano is an undergraduate student from San Antonio focusing on Computer Architecture and Embedded Systems. She started at UT in Fall 2019 and is an active member of the Texas Darlins, a women's spirit group committed to providing service to the UT and Austin community. She also serves as a peer advisor to her fellow Texas ECE students.
How did you end up at UT? What path led you here?
Besides my favorite color being orange (and Bevo being the best mascot ever), I honestly have to say my decision to choose UT as my future was a gradual decision. I came to a prospective engineering student seminar my junior year of high school, and that's when I began to think I could be a longhorn. I thought the campus was beautiful, and I really enjoyed the mission that UT stood behind. Over time, I became more and more excited at the idea of being a longhorn and studying ECE at The University of Texas. I tend to be a rather level-headed person and to always weigh out all my options when making big decisions. Once I got my acceptance though, I knew that UT was for me. I didn't finish my applications for other schools, because I knew that I belonged here. I accepted my admission within minutes of finding out, and I do not regret my decision at all. 
What got you interested in electrical and computer engineering?
Back in high school, I took a pre-AP computer science course. When I registered for the course, I had no idea what computer science was, nor how to code. I started diving into the computer science class and I was lost! Little did I know that when I would seek tutoring from my teacher, Mr. Dean Arteaga, he was the one that would guide me to my decision in majoring in Electrical and Computer Engineering. Over time in the class, I came to realize I really enjoyed this whole coding thing.
I had never been challenged to critically think or extensively problem solve before, but during my time in that class, I began to realize the skills I had possessed and I knew I definitely wanted to make a life out of it.
Between having an amazing mentor in high school, realizing my personal strengths in high school, as well as always having a desire to help people, I landed on the major of Electrical and Computer Engineering. 
Who has been a major influence on your life?
My sister, Megan Amitrano, P.E., and brother, Andrew Amitrano have been a tremendous influence in my life. They are both older than me (6 and 4 years respectively), so for my entire life I have always looked up to them for advice. Growing up, I was able to learn from their life experiences and apply them to my own. They both studied civil engineering in their undergrad years, so I was able to get insight into the life of engineering.
While I never had a passion to study civil engineering, I saw how they problem solved and how they made solutions that aided in the life of so many individuals. Being able to see my siblings do something I was interested in made me realize that I too could be an engineer.
Even today, as we are older and living our own unique lives, I still look up to them.
If you could provide one positive memory of your time at UT so far that stands out, what would that be?
One of my most favorite and positive memories at UT is going to my first football game freshman year. That was the day I immersed myself in Texas football and now I'm hooked for life! I was decked out in burnt orange and chanting my lungs out to "Texas Fight". I can't remember if we won or lost, but I do remember being immersed in Longhorn energy and knowing that this was the school for me!
Why did you become a peer advisor, and why is it important to you?
I have a natural tendency to try and help people as well as being in mentorship positions. I thought peer advising would be a great way to be able to help and provide guidance to my peers in ECE. Again, I have always had a passion to help people, and peer advising provided a micro scale to achieve that goal during my time as an undergrad.
When will you graduate and what are your plans/goals for after graduation?
When I graduate in May, I will be joining NXP Semiconductor as an Automotive Microprocessor Systems and Applications Engineer. I'm super excited to begin my professional career and to begin applying all the skills I have learned during my time at UT.
In addition to beginning my career, I'm equally excited to be a woman in the field of computer engineering. I hope to be an inspiration to women who will follow the same path I did and to be a trailblazer female engineer. 
Women have long been marginalized in STEM areas. How do you think we can help/encourage more women become involved in STEM fields?
In order to encourage more women to become involved in STEM, it is imperative to begin introducing STEM fields to the elementary school level students. Oftentimes STEM is perceived as "difficult" and "too complicated". If you are able to get young girls excited about STEM and destigmatize that women can't do STEM, I truly believe we will see a revolution of women in STEM.
STEM is meant for everyone, and by introducing STEM concepts in elementary years, it will just become a normalized part of learning.