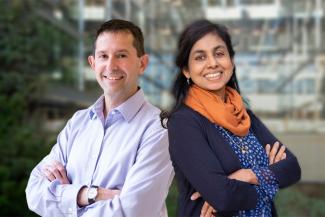 The Association for Computing Machinery, the primary professional organization in the field of computer science, has named two University of Texas at Austin professors — Lizy Kurian John and Peter Stone — as ACM Fellows. The award goes only to highly distinguished computer scientists representing the top 1% of ACM members.
John, a professor in Texas ECE and director of the Laboratory for Computer Architecture, is being honored for "contributions to the design, modeling and benchmarking of computer architectures."
"The Fellow distinction from the Association of Computing Machinery is truly a recognition for Prof. John's achievements and significant contributions to the field of computer architecture, especially design and benchmarking, both essential for advancements in the computing systems space," said Texas ECE chair Diana Marculescu. "We are proud of Prof. John's accomplishments while she is receiving this high honor from the top professional society in computing."
John holds the Cullen Trust for Higher Education Endowed Professorship in Engineering #3. She was named a Fellow of the National Academy of Inventors in 2020. She is an IEEE Fellow (2009), and a recipient of the UT Alumni Association Teaching Award (2004), the NSF CAREER award (1996), and numerous other honors. She holds 13 U.S. patents and has published 16 book chapters, more than 300 refereed journal and conference publications, and approximately 50 workshop papers. She has also co-authored two books and edited four others.
"The 2020 ACM Fellows have demonstrated excellence across many disciplines of computing," said ACM President Gabriele Kotsis. "These men and women have made pivotal contributions to technologies that are transforming whole industries, as well as our personal lives. We fully expect that these new ACM Fellows will continue in the vanguard in their respective fields."
Stone, a professor in the Department of Computer Science and director of Texas Robotics, is being honored "for contributions to automated planning, learning, and multiagent systems with applications in robotics and ecommerce." 
Stone holds the David Bruton, Jr. Centennial Professorship in Computer Sciences #3, and he is a Distinguished Teaching Professor at the university. In 2019, he was named Executive Director of Sony AI America. Other honors include American Association for the Advancement of Science (AAAS) Fellow (2019), Institute of Electrical and Electronics Engineers (IEEE) Fellow (2018), the UT Regents Outstanding Teaching Award (2013), Association for the Advancement of Artificial Intelligence (AAAI) Fellow (2012) and National Science Foundation CAREER Award (2003). He leads the UT Austin Villa, a robotic soccer team programmed by UT Austin student researchers who compete in RoboCup events held around the world.ACM Fellows are recognized for their outstanding accomplishments in computing and information technology and/or outstanding service to ACM and the larger computing community.
Additional information about the 2020 ACM Fellows, as well as previously named ACM Fellows, is available through the ACM Fellows site.