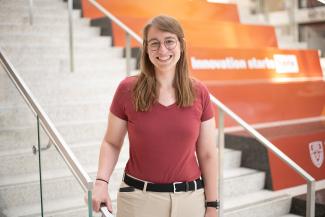 Vivian Rogers is an MS student from Katy, Texas entering the final semester in the Texas ECE Integrated Program where she will finish with both a BS and MS degree in December 2023. She joined Texas ECE in Fall 2018 in the Nanoelectronics track. During her time here she received a National Science Foundation Graduate Research Fellowships Program Honorable Mention, and her Capstone Design Team won First Place in Spring 2022 for their work on "Nanoscale photonic keys for security enhancement." Vivian then presented their capstone work at the ExCEllence in Senior Design Conference 2022 where they won two awards. She also worked in the UT MRSEC program. We sat down with Vivian to learn more about her time at Texas ECE and her future goals.
---
Who has been a major influence on your life? What got you interested in electrical and computer engineering?
First and foremost, my parents, who have inspired in me such a love for science. When I was young, we were living in New Mexico which was an excellent place to have a geologist as a father. He showed me caves around the hills of Carlsbad, and took us on road trips to find rocks in central Colorado. Later, author Hank Green and miscellaneous philosophers like Epicurus, Jeremy Bentham, W.H. Auden, and Murray Bookchin got me thinking about my place in the world and helped me outline a more tangible plan for what I can do with my life to maximize my positive impact. In high school, I competed in Science Olympiad's Fermi Questions (with the premise of estimating arbitrary values in the universe to within an order of magnitude), and immensely enjoyed my physics and chemistry classes, to the credit of my teachers. I adore physics, but decided that electrical engineering was the right path for me since it allows me to synthesize cutting-edge science with this global push towards cheap and versatile automated production.
Some people will spend their careers predicting novel behaviors in the crystalline semimetal Cobalt Tin Sulfide, and others might contribute to automation in a push towards their vision of post-scarcity economics. Why not do both at the same time? This is what defines my interest in nanoelectronics. 
Tell me a little about your research. How did you get into the field you are researching?
My current research projects center around the understanding and utilization of new materials physics for emerging computing and memory architectures. Recently, I submitted a physics paper detailing the possibility of using topological "magnetic Weyl Semimetals" in computation or memory. By helically magnetizing a small nanostrip of this semimetal, I believe there is a mechanism for it to behave like the elusive "memristor", a long-sought-after circuit element which would allow for analog matrix multiplication, and could be a stepping stone to the development of brain-like neuromorphic hardware. Additionally, we predicted some exciting and unexpected physics in this system at the same time as another group in Germany. It has been a very rewarding project! After acceptance of this paper, I want to document this quantum nanoelectronics modelling software I have written for the project and open-source it, which is at least a small contribution towards the democratization of science. 
If you could provide one positive memory of your time at UT so far that stands out, what would that be?
In my dorm room at Jester, my 319k lab partner and roommate had a few friends over to watch a movie, while I finished writing code to allow for transparency, animations, and a graphics buffer in the embedded systems final project. I didn't need to. But our video game, "Dinosaurs and Donuts", looked so good when it finally started working!
I love that ECE often feels like a blend of art and science.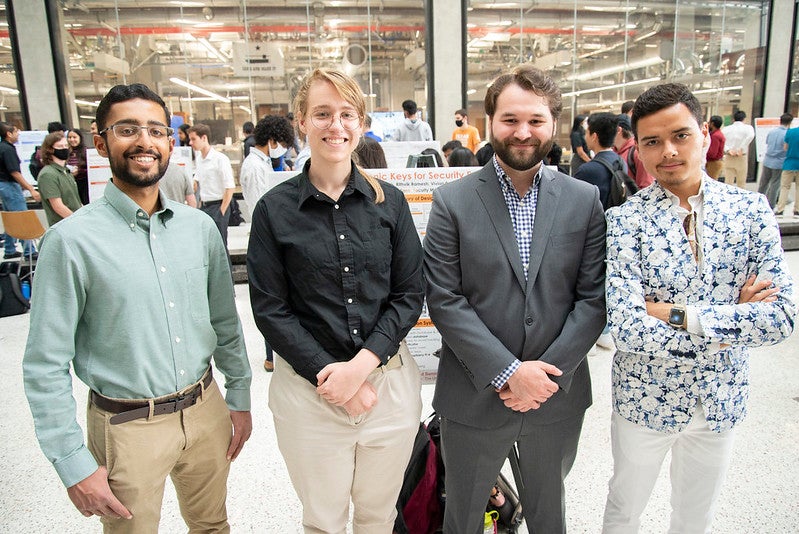 What are your future goals after you graduate this Fall?
After graduating from the integrated BS/MS program, I plan to apply for PhD programs and pivot slightly more into applied physics, while still staying as close to engineering and computer architecture as I can. In the short-to-medium term, I wish to find more direct outlets for helping communities around me, such as by volunteering at queer art shows again or working part-time with local startups in a technical capacity. I think that working in academia while staying grounded would be a good balance for me. 
Tell us something about yourself personally.
I enjoy anything interesting and new to me! Perhaps to a fault. I love starting new projects and hobbies, especially reading into sciences, philosophy, and mathematics that are more distant from what I study. It is so fun to look for interdisciplinary connections that I can borrow from to use in my work, or are otherwise enjoyable to think and write about. More casually, I love listening to weird jazz, reading experimental literature (I am currently finishing Wittgenstein's Mistress and Gravity's Rainbow), and spending time in nature. 
What does Pride Month mean to you?
We should celebrate the unusual! Especially where it pertains to personal authenticity and/or love.
My machine learning classes have taught me that you will never find your global optima unless you explore your solution space, and in my personal experience, gender identity is no exception.
I am perhaps nonbinary, or a transgender woman, but ultimately feel so compelled by this search for authentic expression that the label does not matter too much to me. In many respects it can be hard not to fit in, but I quite like the symbolism behind sticking out and being proud to figure out my own unique path.