Due to a change in the Austin Independent School District calendar, our original date of Fri, Feb 11 is no longer feasible. We are postponing the event to Fri, Feb 18. Sorry for any inconvenience.
The Edison Lecture Series is a free, interactive STEM learning experience that engages middle and high school students with the fun side of electrical and computer engineering. Edison attendees learn the fundamentals of an engineering topic through a university-style lecture, then see these concepts come to life through hands-on demos. Be part of the excitement!
---
Edison Lecture Series 2022
Augmented Reality & Virtual Reality
Friday, February 18, 2022
9:30 AM - 12:00 PM
A Virtual Field trip via Zoom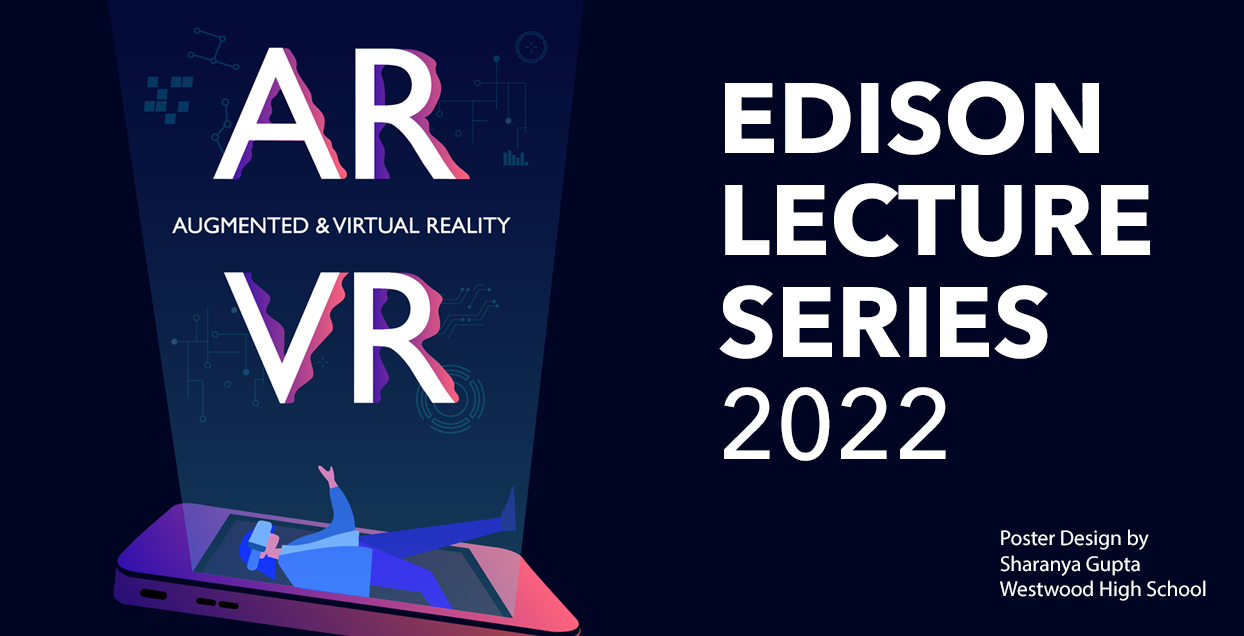 The University of Texas at Austin's Department of Electrical & Computer Engineering invites you to the first ever Edison Lecture Series virtual field trip on Friday, Feb. 18, 2022. The 2022 lecture topic is Augmented Reality & Virtual Reality. After lengthy stints in relative isolation, we all need a dose of a slightly different reality! Attend the virtual lecture to find out what's possible!
Virtual Field Trip Format
For this virtual field trip, we want participating school groups to experience the synergy and interactivity of in-person gatherings from the safety of your own schools. Just like you would for an in-person event, we encourage you to get permission to take students out of their normal classes so that they can watch the livestreamed lecture and demos live. 
---
The 2022 Virtual Edison Lecture Series is brought to you by the Department of Electrical and Computer Engineering at The University of Texas at Austin.
---
Here's how to plan your virtual field trip:
REGISTER your entire group for the virtual field trip.
GET PERMISSION from your parents and administration to excuse attending students from regular courses so that they can attend the virtual field trip on 2/18 from 9:30 AM - 12:00 PM.
BOOK SPACE in your school large enough for your entire group to safely come together and experience the virtual event.
A/V OPTIONS: If you have a large space, set up a big screen and PA system so that everyone can see and hear. Consider setting up a station with a camera and mic so that your students can ask questions directly to the presenters.
INTERACTIVITY: Consider permitting students to bring their mobile devices into the lecture, so that they can interact in our online polls.
---
Contact Us
General questions, including how to register a student group, how to do demos at the event, bus parking, etc.:
Poster Contest Submission Questions:
Company Sponsorship questions:
---
Edison Poster Contest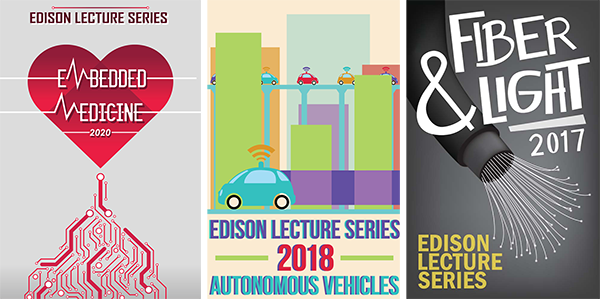 Every year, the Edison Lecture Series hosts a poster contest to design the poster for the following year's lecture. The winners will be announced at the 2022 Edison Lecture Series.
Deadline: Monday, February 14, 2022
Topic: Sustainability: Engineering Solutions to Environmental Problems
Description: Every aspect of engineering impacts the environment. As engineers, we have an obligation to constantly consider the impact that our solutions have on the environment that we inhabit. Increasingly, though, we also have the opportunity to engineer solutions that directly benefit the environment. From efficient and clean energy solutions, to smart buildings and energy efficient deep learning, engineers from across electrical and computer engineering are making innovative positive impacts on a sustainable future. Join us to investigate some of these efforts and to uncover the potential problems you could help solve to make the world a better place. (The description should not appear on the poster design.)
Submission Instructions:
Please submit all work by emailing a link to a Dropbox or Google Drive folder to Andrew Carr, or your teacher can make a Dropbox link for your entire class's submissions. Please TITLE your file with your name and school.
Design Suggestions
Keep the theme in mind. If the topic is "software", think about what images relate to software.
Images of "gears" are representative of mechanical engineering, not electrical and computer engineering.
Take a step back and look at your design. If you didn't know what the event was, would you be able to guess based on your design?
Technical Requirements:
Please TITLE your file with your name and school.
Posters should be 11" x 17" (portrait or landscape) in a high-resolution PSD or PDF format.
Artwork should be 300 dpi or higher.
All text should be at least 1/2" away from the edge of the paper.
Any questions regarding file types or requirements should be sent to Andrew Carr.
---
Edison Through the Years
2021 Failing Well
2015 Big Data
2014 Mobile Computing
2011 Software is Engineering
2010 Innovation
2009 Changing the World One Engineer at a Time
2008 Television and Surveillance
2007 Renewable Energy
2006 Microprocessors
2005 Communications