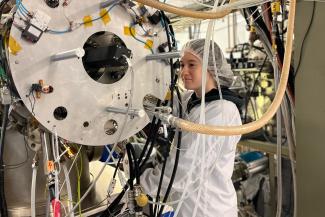 Texas ECE PhD student Corey White was awarded the Best Student Presentation Award at the 2022 Electronic Materials Conference (EMC) for work on "Growth of InAsSbBi on InSb Towards Lattice-Matched Longwave-Infrared Optoelectronics." 
EMC is the premier annual forum on the preparation, characterization and use of electronic materials. This year's event featured a plenary session, topical sessions, a poster session and more.
Corey received a BS in Electrical Engineering from North Carolina State University, joined Texas ECE in Fall 2019 with Prof. Seth Bank in the Laboratory for Advanced Semiconductor Epitaxy (LASE), and received an MS in Electrical Engineering in Spring 2021. Earlier this year, Corey received the Best Student Presentation Award at the 36th North American Molecular Beam Epitaxy (NAMBE) Conference.